Genuine appreciation can increase sales
Published: 19:14, 30 June 2020 Update: 15:18, 26 July 2020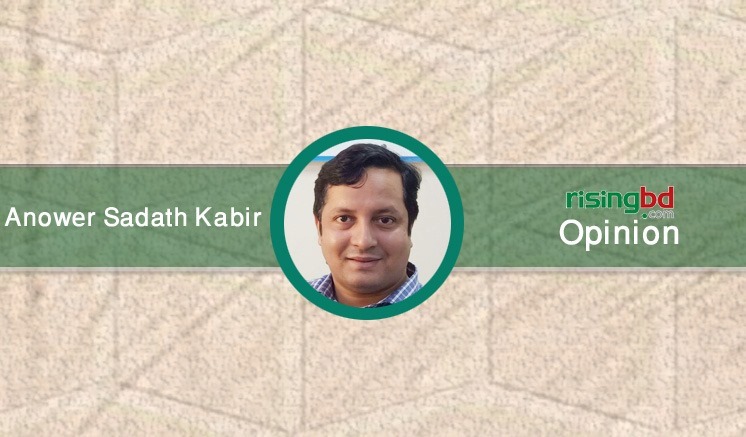 This covid-19 pandemic will surly increase the cost of customer accusation. Normally new customer accusation cost in compare to retain old customer is always high.
It is already long forgotten art of appreciation to get new sales. Mostly in Bangladesh retail sales very few shop owners and sales representative focus on the customer real need. This is the main reason - we find out, in a market some 10%-20% shops sales exceptionally good and others are selling ok. Appreciation to our customer plays a huge role of big volume sales or corporate sales to close the deal effectively and smoothly. It is equally important for increase the retail sales as well.
Appreciation always works in every steps of life, from personal relationship, married life to sales, appreciations work perfectly in every level of life, in sales appreciation has a bigger role to play. In sales success, appreciation to customer work in remarkably effective way.
Having customer appreciation program is not costly, but highly effective way to keep customers happy and standout from the competitions. When customer feel they are recognized and appreciated, they will stay loyal to the company, and they will help to have the word of mouth advertisement as well. They will help you to build the brand. This is the time of social media. Customer appreciation program may help company to have a sustainable sale to existing customer and have a good cash flow during the coming midterm recession after covid-19 effects. There is an opposite site as well, if customers feel unappreciated and ignored, they will stop buying form your shop or do business somewhere else.
Appreciation is a strong tool for the sales success, let us see how it works:
1. Plan to surprise the customers: When people become positive surprised it triggers the natural happy hormone (dopamine) and people become happy. In different format we can make our existing customers happy, from company - it may be a phone call, appreciation note, to the loyal customer, some offer that me help them to come back quickly and buy more. Customer level upgradation, like if you have silver customer, they can be upgraded to gold category customer along with some benefits, there are so many ways to surprise customer and lead them to come back again.
2. Make the top list of the customers and appreciated them publicly: It is not important what you are giving the top customers, but it is particularly important that how you are giving. if some company publicly do the appreciation to the top clients, they will be happy, and others will be motivated as well. This way works in corporate sales very well. How we can do this – here is some idea, beautifully decorated certificates of corporations incredibly low in cost, but this can be a perfect way of appreciation, top customer recognition medal, crest, and many others. Some small gifts also very workable, it will be good approach, if the gift is with the company logo. Every company must have a structured and systematic way to appreciate to customer, and it is always better if you can do it publicly.
3. Always give a VIP reception to all customer when they come to shop or in your business place: Showing customer that you care of you is not costly, nice invitation words and welcoming may be enough for most of the times with most of the customers. All the people like to feel valued and recognized, customers are also same, this is human nature, it is important to remember, when you appreciate someone, it must be sincere and from your heart, being honest plays the tricks. Fake appreciation never works. Some time it may works for short time but for long run fake appreciations fails, and it will make you very miserable. Real appreciation comes from felling that we do really care about our customers, it is a signal of real and genuine business.
4. Compliment customers in specifics day's: Knowing customers culture signs and special day's is important. Need to make a data sheet, mostly birthday, cultural days and some special days need to be register in the data sheet, in this particular days send some small gifts or cards (personalized cards along with customer name) is important. This make customers incredibly happy and more engaged to the business or re-buying.
5. When new products or services launch, make early bird programs: Many of the company round the year have new products or services launching. Make an early bird program for the new and old customer as well. But make some extra space for the old customers so that they can repurchase and become an extremely strong reference of our products or services. This way will not only increase the sales but also increase the brand value.
6. Run a loyalty card program as appreciation: This is effective for the retail business, also for the SME business, this will make a positive impact on the customer rebuying. If can associate with some offer which is not that big – even it will work for the sales generation. If can make a wide range of loyalty card program, it will surly help to increase the sales, one example, one loyalty card can be used by multiple customers and collect some points for each purchase and finally get some reward on the accumulated points. This must bring particularly good result on sales increase, for the sake of collecting the points the original owner of the card will send many people to buy form the shop or from the business.
7. Credit note program as appreciation on big purchase: This method is interesting and highly effective. In the corporate sales this is a common method for closing the deal. When the purchase volume is big customer normally want big discount as well. To avoid the discount and make a possibility of reselling, credit note is highly effective.
8. Show the appreciation when customer send referrals: When some customer sends some reference, talk good about the customer who send the reference, praise him or her genuinely to the referred customer. This way of appreciation works, when this reference go back to the customer and tell him about the good thing (the praising) the customer will be happy and will send more customers as a reference, and the customer who came to the shop, he will be also very happy.
9. Avoid any kind of conflicts and ask customer opinion: If some time some customer is angry with something, do not involved him with any kind of conflicts, first try to understand the customers pain points and his opinion on the issues. When you understand the problem and try to solve the problem in a win-win situation. Conflicts with customer is never a good thing for business.
10. "Likes attracts likes" Stay connected with the customer: If we genuinely like customer and make a continues connections and occasional greetings with them, in personalized manner, they will also love to come back to us, this is a natural law – "like attracts like". If you genuinely like your customers, they will like you back, sometimes the return is more than you have expected. This is important that your feeling should be heartfelt and genuine. If you have a business customer and he sales other things, you may generate some sales lead or referrals for him. If you are selling clothes but your customer asks some matching jewelry to buy, you may give them some particularly good shop address and if possible, arrange some discount for them. The bonding with you and the customer will be incredibly good, this way you show your appreciation to customer and they will love to come back to your shops again and again.
This is also important in life - married couples stay together long time but the true communication between them very rarely happens. I have seen, many married husbands do not appreciate their wife's work for the family. I advise to the husbands to show gratitude to their wives work for the family and for themselves. Show genuine appreciations, let her know how important her contributions to the family and kids. Bring some small gifts occasionally or even for no occasions, flowers sometimes and truly tell her that how much you love her, this cost not too much money as well, during this epidemic time try to find some together time. this really works to bring peace to the family, in other side, if wives praise the husband hard work and become happy with husband success no matter it is small or big, find occasions to praise her husband, what husband will do then? he will try more and work more harder to bring more happiness to family. Sometime just send the "miss you" SMS and see the positive impact in family life. This appreciation methods really works. If anyone reading this article, they should try this method and judge the accuracy of the appreciation method.
11. Send personalized emails and SMS: Every company should consider the setting up a after sales follow up system. Developing the follow up system in the big company is a must. It works in the varieties (Mudi) shops even. If the small shop owners just ask customer " brother last time you take the products from my shop, is every thing you find OK?" most of the times almost 99% of the time customer say it is OK, and they will have more confidence on that particular shop and repeat purchase will happen from that shop. Big companies may think and practice the after-purchase benefits to customers. It is a no cost way to send email or SMS to appreciate customer and get information to make them happy and feel reliable to the brand.
12. Must give attention to the social media advocates: this is the age of online and social media plays a big role. Make a list of the top fans of the social media and think every one of them individually, find some good and cost-effective way to appreciate them. Send the occasional appreciation letter and if possible, give some small gifts, may be key rings with company logo also ok. If you increase your gratitude and appreciation the same thing you will get back, sometimes even more.
Appreciation always play a great role as the positive influencer in life or sales. Many of the cases and many of the people do not practice the method of appreciation in life or in business. We all should make habit of appreciation to our life, from now on start using appreciation and we will see the positive change in our life, and you will witness the sales from the existing customer will go significantly high. You will see the customer will create a positive vibe for the company if you just start appreciating them.
(Writer: Anower Sadath Kabir, Sales Advisor, vivo mobile phone Bangladesh.)


Dhaka/Sony
risingbd.com