Love to fight taking challenge: Shahadat (Part-1)
Published: 17:27, 28 June 2020 Update: 15:18, 26 July 2020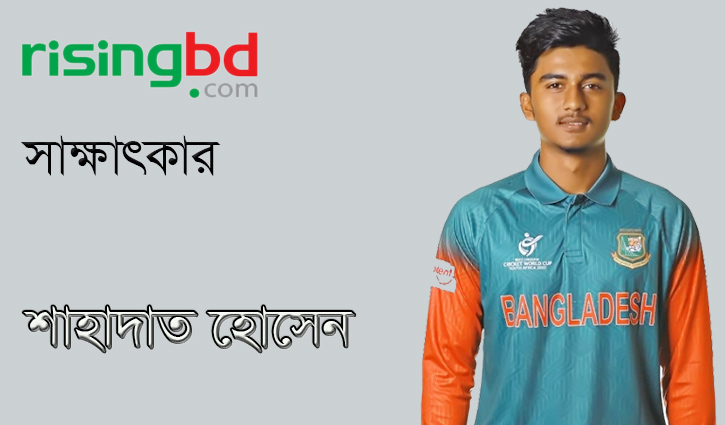 Bangladesh cricket started its world tour through England World Cup in 1999. Although, Bangladeshi young Tigers fought for a foreign trophy one year earlier in South Africa. It was day dream to get a trophy for a nation like Bangladesh at that time.
Playing 12 world cup tournaments, Bangladesh achieved the dream after 22 years. Bangladesh clinched the title for the first time through youngsters. Middle order batsman and all-rounder Shahdat Hossain played his role giving full concentration in the dreamy tournament.
Young Tiger played a great role as a batsman in two knockout matches. The player of Chattogram remained as a side-hero in the two key games of Bangladesh. He scored highest average 131 runs. Ultimately, he was named in the best eleven players of the world cup for his cricket-mastery. Even, after returning home, this player got scope to play in warmup match against Zimbabwe and Dhaka Premier League.
However, the cricket journey of Shahdat was not that much smooth. Facing lots of up and downs, he is now moving towards light. He wants to go ahead now. Shahdat wants to serve the country wearing national team jersey. Now the young Tiger is dreaming to win world cup.
Shahdat recently has shared his background story, world cup memories, current conditions, future plans. Risingbd took an interview of him.
Here is the attractive parts of his untold story.
Risingbd: How are you? Where are you right now?
Shahdat: Alhamdullilah, I am fine. Currently, I am staying with my mother and elder brother in our residence in Chattogram. (Shahdat's father died of cancer in 2010).
Risingbd: As far I know, your cricket journey was not too much smooth. Would you kindly share your background story?
Shahdat: In 2012, I went to do a trial at Savar Bangladesh Krira Shikkha Protishtan (BKSP) to get a scope in cricket discipline. I had maintained 1-2 months training camp for that trial. But, unfortunately, I did not get that scope. I was kicked out of the trial. At that time, I thought may be cricket is not for me. Later, I kept myself aloof from cricket.
There was a senior brother in my locality. His name is Sudipto Deb. He encouraged me again and again. Once he told me, "Missing one chance in BKSP is not everything. There are other steps like district, divisional stages." I was too young at that. I could not understand those phases at that time.
At one stage, I asked him, "Brother, how can I become a player after getting rejection from BKSP." Then, he inspired me to play in district and divisional league. Convincing my family, he helped me to get admitted to Ispahani Club in Chattogram."
"My family was going through a tough time at that time. I wanted to support my family by any means. Following the desire, I went district and divisional levels. After a certain period of time, I planned to go to village quitting district level team as my family has no option to continue my expenditure. Even, it was tough to pay house rent for my family."
Then, a coach of mine named Nobel Sir told me, "Listen Dipu (nick name of Shahdat) you can play (second, third division) league in Chattogram. If you can do better there then you will get chance to play district team. Just try one year." Similarly, my other coaches said so.
Actually, I was playing in second division at that time. My fighting had started from there. Leaving our house, we started to leave with another family jointly. Eventually, I got scope to play in district team. From then, my journey started to go in good mode.
Risingbd: That means – Sudipto Deb and your family played a role behind your cricket journey?
Shahdat: In this context, family is first to me. My mother and brother are everything. If they didn't want then no one would find me. But, of course, Sudipto Da helped a lot. Besides, there are some other persons too who helped me in many ways.
You know, cricket is an expensive game. Only a bat can cost Tk30,000 to Tk35,000. Actually, I had no ability to buy those. Another elder brother name Irfan Shukkur helped me giving bat. So many persons helped me in this way, Alhamdullilah.
Nafis Iqbal, elder brother of Tamim Iqbal gifted me a pair of sports shoe. I used the shoe many days. Even, I played earlier games of under-19 wearing the shoe.
Risingbd: Who is your dream cricket player?
Shahdat: I like many players. It's tough to say which player inspired me a lot. But, in the context of country's player - Shakib is my favorite and as a foreign cricketer I like Virat Kohli.
Risingbd: That means- you have no cricket idol?
Shahdat: If I say anything about my idol then I have to say the name of Sudipto Da. He played in Premier League. He was idol of many young cricketers in my locality. Playing Premier League was an achievement there. Still, he is my idol in many concepts. He has recently got married and got a government job. But, still he is playing in Chattogram Premier League.
Risingbd: Cricket is both physical and mental game. Which one get priority to you?
Shahdat: I will say – it's a mental game. Actually, I love to fight taking challenge. Sometimes, the team face tough time. When team lose 6-7 wickets taking only 100 runs I feel comfortable at that tough time too. I feel a challenge at that time. I can take that challenge alone. I think that's a great option for me to show my skill.
To be continued…


Dhaka/Kamrul/Nasim
risingbd.com