Augustin Sujan: The National Board of Revenue (NBR) also honored multinational electronics giant Walton with Highest VAT Payer Award in the just concluded 25th Dhaka International Trade Fair (DITF-2020).
Walton was honoured with another award from Export Promotion Bureau (EPB) as the best VAT payer. Besides, Walton also received 'Best General Pavilion Award' and the second prize of 'Best Premier Pavilion' at the fair.
NBR honored a total of 10 highest VAT paying companies at the DITF. NBR member (VAT Policy) Masud Sadik and Customs and VAT Commissioner (Dhaka West Zone) Dr Moinul Khan handed the crest and certificate of the highest VAT payer award to Walton Hi-Tech Industries Limited Director SM Rezaul Alam at a programme held at the conference room of the Customs Excise and VAT Commissionerate, Dhaka (West) in the capital on Monday (February 24, 2020). This year, Walton deposited the highest VAT of Tk 37,64,490 at the fair.
Walton Executive Director Humayun Kabir and Additional Operative Director Shahidul Islam were among others present in the programme.
SM Rezaul Alam said, 'Generally, customers pay VAT, which is collected by the product's manufacturers or sellers and then they deposit the respective amount to the national exchequer. Thus, it's a great responsibility of the country's business enterprises to deposit the collected VAT to the NBR by following the government's related rules and regulations.'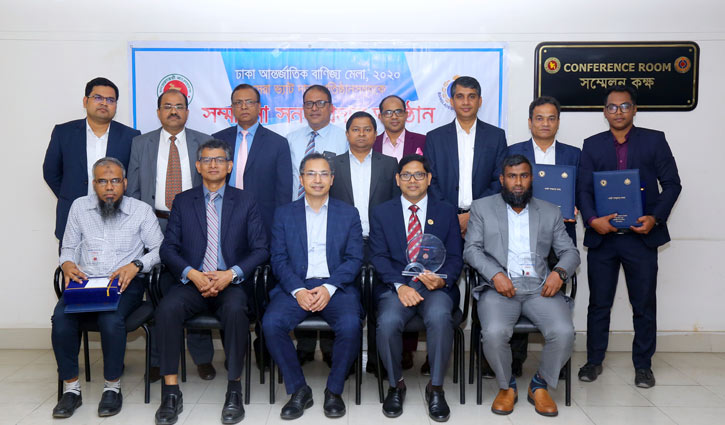 Humayun Kabir said, Walton has always been the recipient of the first prize of the Highest VAT Payer Award. Walton has been contributing to the development activities of the government by becoming one of the best VAT Payers. This award has extended our responsibilities to the society.
According to NBR sources, the number of stalls at the trade fair was 487 this year. A total of BDT 6.47 crore worth of VAT has been collected from the trade fair. The other recipients are- Esquire Electronics Ltd, SaRa Lifestyle Ltd, Rangs Electronics Ltd, HATIL Complex Ltd, Multiline Industries Ltd, Fit Elegance Ltd, Navana Furniture Limited, Fair Electronics Ltd and Bango Bakers Ltd among.



Dhaka/Augustin Sujan/Nasim