New claim made as impeachment inquiry goes public
Published: 21:11, 13 November 2019 Update: 15:18, 26 July 2020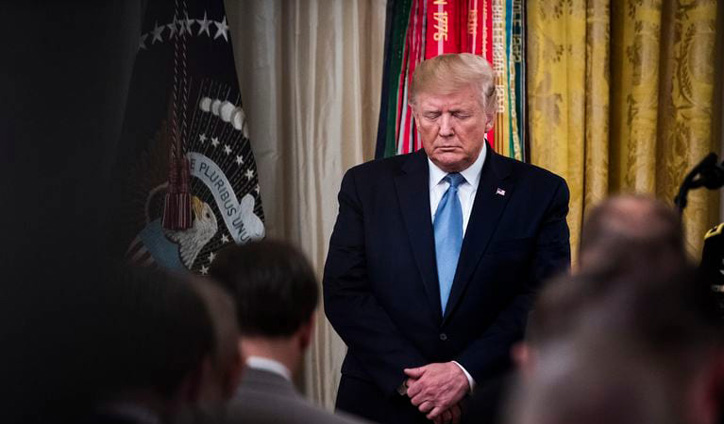 A top US diplomat at an impeachment hearing has said that President Trump directly asked about a Ukrainian probe into his Democrat rival Joe Biden.
In previously unheard testimony, Bill Taylor, the acting US ambassador to Ukraine, said a member of his staff was told Mr Trump was preoccupied with pushing for a probe into Mr Biden.
He was speaking at the first public hearings in the impeachment inquiry.
Republicans branded the Democrat-led hearings a televised "spectacle".
Mr Trump is accused of withholding US military aid to Ukraine in order to pressure the country's new president to publicly announce a corruption inquiry into Mr Biden, among the favourites to take him on in the 2020 presidential race.
Mr Trump denies any wrongdoing and describes the impeachment inquiry as "another witch hunt".
During a detailed opening statement, Mr Taylor said a member of his staff had overheard a telephone call in which the president inquired about "the investigations" into Mr Biden.
The call was with Gordon Sondland, the US ambassador to the European Union, who reportedly told the president over the phone that "the Ukrainians were ready to move forward".
After the call, the staff member "asked ambassador Sondland what President Trump thought about Ukraine", Mr Taylor said.
Mr Taylor said: "Ambassador Sondland responded that President Trump cares more about the investigations of Biden."
When asked about Mr Sondland earlier this month, the president had said: "I hardly know the gentleman."
The impeachment inquiry has been going on for more than a month - but all previous hearings were private, with reports based on leaks and sources speaking to the media.
Wednesday's public hearings are the first time the public can hear from witnesses directly - and both Democrats and Republicans will be hoping to win over voters.
Source: BBC

Dhaka/Nasim
risingbd.com