Noted actor Anwar Hossain passes away
Staff Correspondent || risingbd.com
Published: 21:13, 12 September 2013 Update: 15:18, 26 July 2020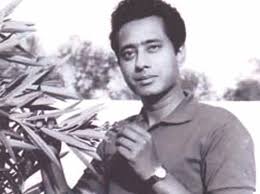 Anwar Hossain
DHAKA, Sept 13: Noted actor Anwar Hossain died at Square Hospital in the capital after Thursday midnight (Inna Lillahe Wa Inna Ilaihe Rajewn).

The ailing actor Anwar Hossain was admitted to Square Hospital on August 20 last. Since then he had been undergoing treatment there.
The first namaj-e-janaza of Anwar Hossain will be held at Baitul Mokarram National mosque and the second on FDC premises. He will be buried at Mirpur Intellectuals Grave.
Meanwhile, President Abdul Hamid, Prime Minister Sheikh Hasina and opposition chief Khaleda Zia expressed profound shock and sorrow at death of one of the most celebrated Bengali film actors Anwar Hossain.

The octogenarian actor, who did not appear in films due to his old-age complications and severe asthma, was diagnosed with stones in his gall bladder and gastrological problem as well.
Prime Minister Sheikh Hasina on Thursday visited ailing Anwar Hossain at the city's Square Hospital.

The Prime Minister went to the hospital in the afternoon to see the health condition of Anwar Hossain and also gave a cheque of Tk 10 lakh to the family members of the ailing actor.

Anwar Hossain dedicated his life for Bangla cinema. In his long acting career of over four decades, the seasoned actor appeared in many challenging roles in about 500 movies.
He achieved a height in the history of Bangladeshi filmdom that very few actors have.
As recognition to his acting career Anwar Hossain was honoured with Lifetime Achievement Award in the recently announced national film award 2010 by the government.

Hossain made his debut in 'Tomar Amar' in 1961, however, played the role of the hero in Salauddin's Surja Snan (1963). His performance as the titular in Nawab Siraj-ud-Daula (1967), placed him permanently in the heart of millions of movie lovers. Subsequently, Anwar Hossain acted in a number of quality movies including Jiban Theke Neya, Kancher Deyal, Surja Sangram, Golapi Ekhon Traine, Lathial, Nachghar and many others and has successfully created the image of an ideal actor in the characters representing conscience.

He received the award for Lathial in 1975, Golapi Ekhon Dhakai in 1978, Dayee Key? in 1987 along with many other awards and honours including Channel-I Film Mela Award in 2009, Chalachitra Darshak Forum in 2006 and Bangladesh Film Journalist Association Award in 1979.

He had acted in over 500 films. 'I can't remember the year but my first film was Tomar Amar and I have acted in about 500 films since the first film,' he said.

Anwar Hossain is reputed for acting in quality films; however, the artiste named three of his films — Nawab Siraj-ud-Daula, Palanka and Jiban Theke Niya — as his best-performed films.

Anwar expressed his deep contentment with his life as one of the most influential heroes of the country's filmdom.

Anwar Hossain was born on November 6, 1931 in Jamalpur. The numerous films he acted in include Bishkanya, Shaheed Titumir, Binimoy, Jiban Theke Niya, Nijere Haraye Khuji, Golapi Ekhon Dhakay, Lutera, Shimar, Bhat De, Pension, Talachabi, Matir Koley, Tufan Mail and Morjada.

risingbd//sza
risingbd.com