"Poverty alleviation provides me much joy"
Published: 17:28, 15 June 2020 Update: 15:18, 26 July 2020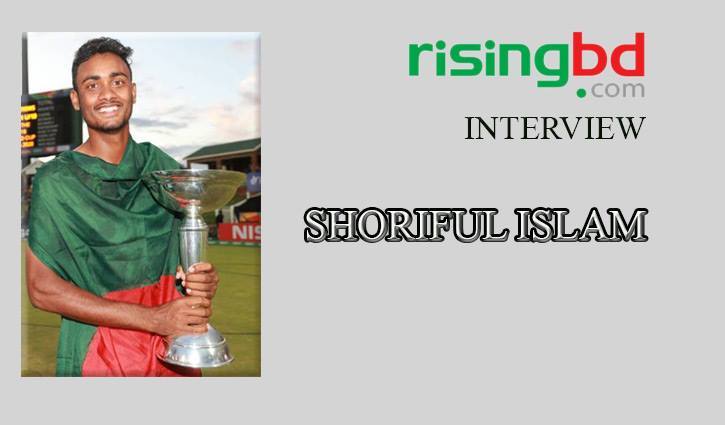 Playing cricket was one kind of luxury to son of a farmer like him. Passing time with cricket bat-ball seemed to him something additional things as there was no guarantee of regular foods. But, the dream lover Shariful knew that cricket would bring light to the poverty-stricken family.
That's why Shariful started to move after his dream convincing his parents. Crossing the bed of thorns, that Shariful is now a world-cup winning hero. He won youth world cup.
Poor parents of this young son felt proud as their young son brought honor for the country. The young pacer now enjoys this success against poverty.
Talented cricketer Shariful live in Nagarpara area of Dandapal union under Debiganj upazila of Panchagargh district. Recently he has talked with Yeasin Hasan, sports correspondent of risingbd.
Risingbd: What are you doing with your fitness during this lockdown?
Shariful: Actually, I couldn't do much when lockdown started first. Just took some rest. Then I started running on the streets three days in a week to keep myself fit as lockdown started moving forward. Besides, I started working with rubber band, swimming. Basically, there is a routine in this regard. I just follow that.
Risingbd: We have heard that you swim in Karatoya River…
Shariful: Yes brother. I regularly swim in the river. Sometimes I swim alone. I also swim with my friends. Swimming in the river gives me much pleasure.
Risingbd: How you get changed after winning the world cup?
Shariful: In reality, very few people knew me in my locality. But, after winning the world cup against India, people know me more. Locals or the people of Panchagarh district loved but much but the level of people's love increased further.
Risingbd: We have come to know that you celebrate your wickets even during your sleeping. (Celebration wickets keeping hands inside pant).
Shariful: No no.. I don't celebrate. However, I dreamt about the final match. Sometimes, I saw some moments in my dream. Even, I dream about the world cup with national team jersey. I dreamt same dream again and again.
Actually, I can't explain how much I enjoy the whole moments of winning the world cup. Sometimes I feel that I played the tournament in my dream. I have kept the video of that whole match. When I feel sorrow I watch the cricket match.
Risingbd: You had gone to world cup after taking a good preparation. You have played Dhaka League. Even, you played BPL. Was it too easy for you?
Shariful: I had experience as I got some scope to play with seniors. When I played at Prime Bank for the first time, Rubel Bhai was there. Besides, when I played at BPL, Junayed Khan, Amir were there. I have met lots of good players during Dhaka Premier League.
I have learnt from them. I always put question before them. I asked them, "Bhai when and which ball will create problem to the batsman? Besides, coaches were there to answer me. I played in premier league and 'A' team. I had a confident that I will be able to play my best.
Risingbd: We heard that you had faced problem during sending your remuneration from Dhaka?
Shariful: Little bit. In 2017, I played premier league for the first time and played on behalf of Prime Bank. I did great at that time. All the players got their cheque and they cashed the cheques. But, I could not withdraw the money as I had no bank account. There was also a tension as I had no national identity cards at that time. Later, a student account was opened using birth certificate. Kankan Bhai helped me a lot. However, I could not draw the amount of my first match. Then, I was given cash money. A person came to my home in Panchagarh from Dhaka.
Risingbd: Is there any coach with whom you want to work one session at least?
Shariful: I want to work with Pakistani legend pacer Wasim Akram. His outswing, inswing amaze me. Especially, I want to learn inswing bowling from him.
Risingbd: You draw a cross sign during your run-up. But why?
Shariful: I have overcome that. Jacky sir helped me to overcome that. I had a problem with run-up. That's why I had to run in that way. That gave me a rhythm.
Risingbd: The length of your run-up is huge. You run 27 steps…
Shariful: Still my run-up is 27-28 steps. I feel comfortable in big run-up.
Risingbd: Do you have any story of pain behind your cricket life?
Shariful: There are lot of stories. Which one I will share…
Risingbd: As your wish…
Shariful: I live with parents, brother and a maternal uncle. We have only a thatched-roof huts. There was no electricity connection in my house. As a result, I had to walk at least one kilometer to watch cricket match.
Once, I along with my uncle went to another area adjacent to my house to watch a T20 match between Bangladesh and Pakistan. Mustafizur got debut in that match. He (Mustafiz) was a slim guy. Pointing towards him, my uncle said, "If Mustafiz can play then Shariful you will be able to play such match."
Actually, using tape-tennis ball, I played a lot at that time. I had attraction on cricket rather than study. Then, uncle convinced my parents. I had to face many troubles on the way to practice. I had to face problems to manage living costs. Actually, it would impossible to come here with assistance of my parents, uncle and brother. Nothing would happen in my life if they didn't support me.
Risingbd: Your parents was farmer. Now you are giving them a comfortable lifestyle. Does it give you joy and contentment?
Shariful: As far I know- if any parents smile in front of their children. That's the happiest moment of the life. Because, each parents want that their son should do something and bring happiness. Alhamdullilah, I have done that. That's why I am happy. I have kept my parents in a happy environment. It gives me much pleasure. We had passed our days in a tough condition earlier. In that context, we are in better situation now. Poverty alleviation provides me joy most.
Risingbd: According to your speech, you have a special thankfulness, love and attraction to your family...
Shariful: I always remember my earlier and current positions. I continuously kept it mind that if I do better I will go further. If can do more then I will be able to play in the national team. Playing cricket, I can serve my country.
Risingbd: What's your father's dream?
Shariful: My father's dream is – one day I will play in national team, Inshallah. My father will go to stadium to watch that match.
Risingbd: Then what's your dream?
Shariful: My dream is – someday we will win world cup wearing the jersey of national team. And I will try to keep my parents happy.
Risingbd: What is your best weapon in bowing?
Shariful: My weapon is swing bowing. I can do it better against right handed batsman. I can do it against the left-handed batsman also.
Risingbd: Tell the name of a batsman whose wicket you want to get always.
Shariful: I want the wicket of Virat Kohli. Actually, he is a world standard player. I want to bold him through a swing ball.
Risingbd: We want your success. We hope that your success will bring success for Bangladesh.
Shariful: Thanks.


Dhaka/Yeasin/Nasim
risingbd.com