Seasonal rawhide traders in trouble
News Desk || risingbd.com
Published: 12:20, 2 August 2020 Update: 13:29, 2 August 2020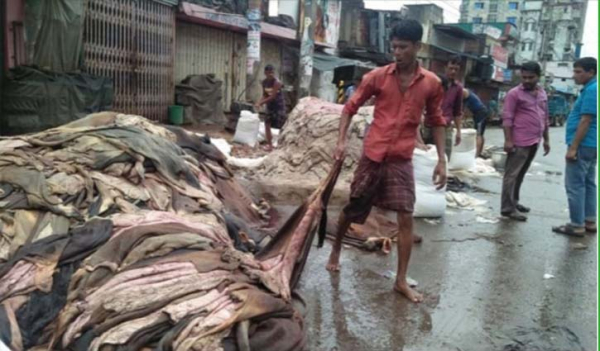 Seasonal traders are in deep trouble due to low prices of rawhide of sacrificial animals. Wholesalers are also showing reluctance to buy rawhide in Chattogram.
The seasonal traders are facing huge losses as they cannot sell rawhide to wholesalers.
Seasonal rawhide traders claim to have suffered huge losses as they are not getting fair prices of rawhide they have bought. They bought every piece of rawhide at Tk 200-Tk 300, but at now they are not getting only the transportation cost.
Sabbir Ahmed, a seasonal rawhide trader at Rangunia in Chattogram, said he bought around 200 pieces of rawhide in the hope of getting government-fixed rates.
"But wholesalers at Atura of Muradnagar were not willing to buy rawhide. I bought every piece of rawhide from Tk 200-300, finally at midnight I wanted to sell per piece at Tk 50 but any one was not willing to buy rawhide", he said.
Abdur Rahman of a madrasa at Fatikchcari said they collected rawhide from villagers free of cost and came in the city to sell those to the wholesales but they are not buying now. Even, we are not getting the transportation cost. Now there is now way without keeping those on streets.
According to sources, wholesalers bought some rawhide in the evening. Later, they stopped it claiming that rawhide price is high and rawhide has rotten due to not properly apply of salt.
Rawhide Wholesalers Samity President Abdul Kader said "We have a target of collecting one lakh pieces of rawhide but we are not able to fulfill the target as seasonal traders are not meeting our demands. Besides, there is no tannery in Chattogram as a result we are to depend on Dhaka traders".
Insiders in the tannery industry fear that a huge quantity of rawhide may get rotten and may be smuggled out of the country through borders due to low prices of rawhide.
Chattogram/Rezaul/Mukul