Scope of becoming millionaire buying Walton products continued
News Desk || risingbd.com
Published: 17:30, 11 August 2020 Update: 17:40, 11 August 2020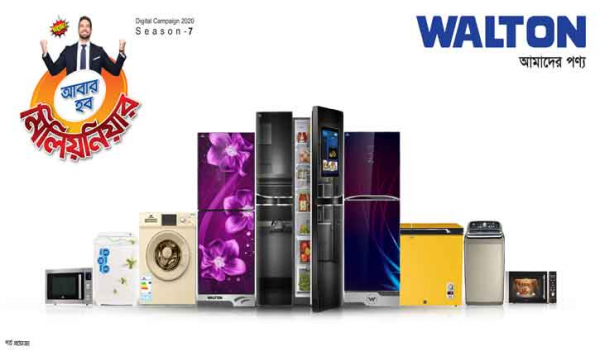 Staff Reporter: Witnessing huge customers' response towards its ongoing Digital Campaign, local electronics giant Walton has continued the scope of becoming millionaire with the purchase of its products.
As per the extension of the campaign, customers are enjoying may get Tk 10 lakh cash, Tk 1 lakh or attractive amounts of cash vouchers on the purchase of any model of fridge, washing machine and microwave oven from Walton Plaza, distributors' outlets or E-plaza across the country.
Walton has providing such benefits to customers under its nationwide ongoing Digital Campaign Season-7.'
Already, a good number of customers became millionaire, along with receiving Tk 1 lakh worth and crores amounts of cash vouchers, buying Walton fridge under the campaign's Season-7.
Among them, some customers who have become millionaire are: Tailor Wazed Ali in Gazipur, towel seller Solayman Haque in Naogaon, poultry farmer Chaithwai Aoung Marma in Rangamati, office assistant of the Khansama Upazila Project Implementation Office in Dinajpur Ranjit Chandra Roy, housewife Sufiya Khatun in the capital's South Kafrul, fish farmer Nazim Uddin in Chattogram, Yunus Miah at Laksam in Cumilla, housewife Goyna Begum in Moulvibazar, Sohel Rana at Chatmohor in Pabna and Md. Zahirul Islam in Thakurgaon.
Walton has been conducting 'Digital Campaign' across the country to accelerate the initiative of building customer database for delivering online based swift and best after sales service. The details of the customers and their purchased products including the name of customer, contact number and the model number of the product purchased are being stored on a server through the digital registration. As a result, customers are getting the after sales service from any Walton service center any time, even if they lost the product's warranty card.
Walton Refrigerator's Chief Executive Officer Anisur Rahman Mallik said that huge customers' response towards Walton Digital Campaign Season-7 was resulted in recording huge fridge sales ahead of the Eid-ul-Azha or Qurbani Eid festival amid the coronavirus pandemic.
And thus, he said, Walton has been continuing the campaign with the offer of millionaire award.
Walton authorities said that Walton is strongly committed to delivering world-standard technology products to its customers, along with maximum customer benefits.
Thus, Walton has been offering several benefits to its fridge customers, including one-year replacement guarantee, 12-year guarantee on compressor, 5-years free after sales service, swift and best post sales services from its nationwide 74 service points and allowing maximum 36 months easy installment purchase facility.
Walton Refrigerator's Product Manager Shahiduzzaman Rana said, Walton is displaying and selling over 100 models of frost, non-frost refrigerators, freezers and beverage coolers in the local market. Frost refrigerators include attractively designed glass doors and BSTI's 'Five Star' energy rated refrigerators with extensive energy saving inverter technology. Refrigerators run smoothly without stabilizers. Prices range from Tk.10,990 to Tk.69,900.
Walton refrigerators have received several standard certifications at national and international level, including BSTI's 'Five Star' energy rating, ISO, OHSAS, EMC, CB, ROHS, SASO, ESMA, ECHA, G-Mark, E-Mark etc. Walton made refrigerators are being exported to different countries of the world as well.
Meanwhile, Engineer Al Imran, CEO of Walton Home Appliances, said they have 12 models of semi-automatic and automatic top and front loading washing machines. Prices range from Tk.6,900 to Tk.45,500 with nine models of Walton microwave ovens will cost between Tk.6,990 and Tk.19,000.
Augustin Sujan/Nasim