Rickshaw puller gets 500 pc cash voucher buying Walton fridge
M Mahfuzur Rahman || risingbd.com
Published: 16:00, 22 October 2020 Update: 16:02, 22 October 2020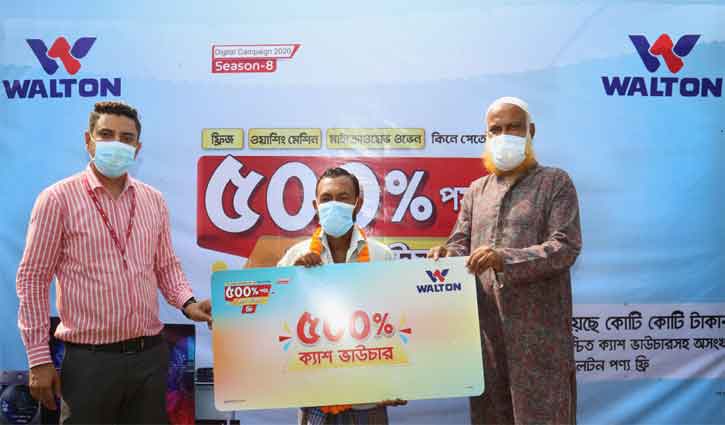 Narayanganj rickshaw puller Habib Bishwas officially receives 500% cash voucher at Walton Plaza Bandar branch on Tuesday last (October 20, 2020)
Economic Correspondent: Habib Bishwas, a rickshaw puller in Narayanganj port, got cash voucher worth of 500 percent of the price of his purchased Walton fridge.
From October 1, Walton's 'Digital Campaign Season-8' was commenced across the country with the declaration of some customers' benefits.
As per the company's declared benefits in the Season-8, a customer will get either sure cash vouchers up to maximum 500 percent of the respective product's price or free products like fridge, television, air conditioner and various sorts of home appliances after the purchase of a Walton brand fridge, washing machine or microwave oven from any outlets across the country.
After purchasing a refrigerator at Tk 19,500 from Walton Plaza Bandar branch in Narayaganj in this month, Habib Biswash was awarded the cash vouchers worth 500 percent of the product's regular price.
The 500% cash voucher was officially handed over to Habib at the Walton Plaza Bandar branch on Tuesday last (October 20).
The cash voucher handover ceremony was attended, among others, by local Councilor Abdul Hannan, Walton Plaza Area Manager in Jatrabai Zone Maksud Alam, Walton Plaza Manager Shahel Mahmud and the localities.
With the awarded cash vouchers, Habib has further purchased a Walton LED TV, laptop, blender, stabilizer, water purifier, rechargeable fan as well as 4 smartphones.
Aimed to deliver swift after sales services through online automation, Bangladeshi multi-national electronics brand Walton is conducting its Digital Campaign across the country.
During the campaign, some details such as customer's name, contact number and the product's model number have been stored on Walton server. As a result, the users of Walton products will easily get the desired after sales service even if they have lost the product's warranty card. Customer database will also help the service center's representatives getting customers' feedback about their respective Walton products' service.
To encourage customers' participation in the campaign, the local brand has been offering special customers' benefits like cashback, cash vouchers etc.
Walton is now manufacturing and marketing more than 100 models of frost and non-frost refrigerator, freezers and beverage coolers, Among these fridge, there are included energy efficient inverter technology's side by side door non-frost, BSTI 'Five Star' energy rating certified as well as lucrative designed glass door refrigerators. These refrigerators of Walton run smoothly without the voltage stabilizers. Customers can buy a Walton fridge between Tk 10,990 and Tk 80,900.
Walton is giving one-year replacement guaranty as well as 12 years compressor's guaranty.
Walton refrigerators have received several standard certifications at national and international level, including BSTI's 'Five Star' energy rating, ISO, OHSAS, EMC, CB, ROHS, SASO, ESMA, ECHA, G-Mark, E-Mark etc. Walton made refrigerators are being exported to different countries of the world as well.
In addition, customers are getting Walton brand's 14 models of energy-efficient washing machine at prices from Tk 6,900 to Tk 48,000. Walton is giving up to 10 years guaranty on the motor of its washing machine.
Walton brand's 13 models of microwave oven are available in the domestic market between Tk 6,990 and Tk 19,000.
M Mahfuzur Rahman/Nasim