Walton AC free for writing slogan or tagline
M Mahfuzur Rahman || risingbd.com
Published: 15:14, 6 May 2021 Update: 15:19, 6 May 2021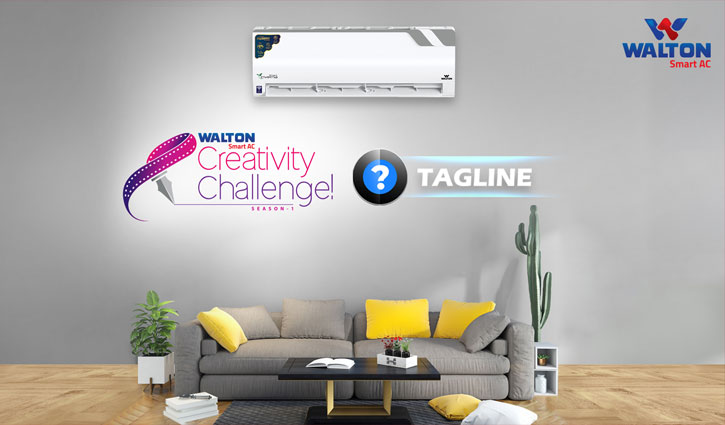 Bangladeshi Superbrand Walton announced various prizes including free ACs for writing attractive slogans or taglines on its air conditioners. Under the 'Creativity Challenge Season-1' campaign, a total of 10 best taglines or slogans will be awarded. Of them, the best three tagline or slogan writers will get 2, 1.5 and 1 ton Walton AC respectively. The remaining 7 writers will get a Walton blender of WBL-10GX65 model each. The competition will run until May 31, 2021.
Khalilur Rahman, brand manager of Walton AC, said the participants will be able to submit their taglines or slogans through Google form or making comment or sending message on Walton AC's verified Facebook page. After submitting the slogans or taglines, participants have to share the photo banner of Walton Smart AC's Creativity Challenge on their Facebook timelines. The person who submits first will be given preferred in case of the same taglines or slogans. The Google form can be found on this link- t.ly/tu7Q. Phone calls can be made to these numbers- 16267 or 09612316267 for more information.
Walton Hi-Tech Industries Limited's Deputy Managing Director Humayun Kabir said that most of the people are staying at home during this Coronavirus pandemic. Walton's AC department is working to develop people's skills and talents by involving them in creative works during this lazy time. I think participants' creative skills will be developed through this campaign.'
He added the taglines or slogans related to the Walton AC could be written in Bengali or English using elegant language. Creating awareness about Walton and information about its products should be given emphasis on these creative writings.
Besides, Walton is providing various facilities to its AC customers. Among them, up to 200 percent sure cashback is given under the ongoing digital campaign season-10. Customers are enjoying free installation and home delivery services. Walton also providing up to 40 percent discount on specific models of ACs. There is also 1 year EMI and installment facility up to 36 months with 0% interest. Customers can also purchase new ACs of Walton brands at a 25 percent discount in exchange of their old ACs of any brands.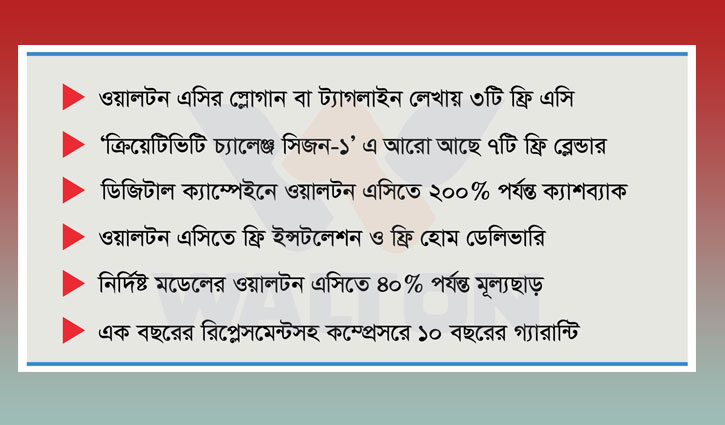 Walton released various new models of inverter technology ACs with dual-defender, ionizer, ultra-violet care features which helps protect houses from virus or bacteria. Its Inverna series ACs consumes electricity only Tk 2.8 per hour in eco-mode which is tested by the Bangladesh University of Engineering and Technology (BUET).
Besides, 1, 1.5 and 2 ton split ACs, Walton is producing and marketing 4 and 5 ton cassettes and ceiling type ACs for medium establishments like school-college, mosque, madrasa, hospital, hotel, restaurant, conference hall. For larger establishments like factories and offices, Walton has variable refrigerant flow (VRF) and Chiller.
Walton is providing one-year replacement guaranty as well as 10-year guaranty on the compressor of its split type ACs.
Walton has 76 service centers across the country under the ISO Certified Service Management System to provide fast and best after sales service. Walton's skilled and experienced engineers and technicians are providing free service to AC buyers after every 100 days.
Dhaka/AI