Special benefits available on Walton washing machine purchase
News Desk || risingbd.com
Published: 19:06, 6 June 2021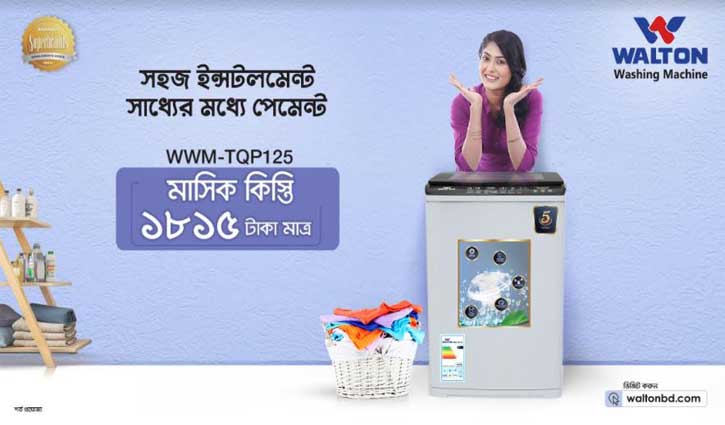 Bangladesh's super brand Walton is offering ease purchase facility for its wide ranges of advanced technologies' washing machine.
As the needs for washing machine have gone up during the coronavirus pandemic situation, Walton announced some special benefits on the purchase so that customers would easily meet their demands for washing machine.
The available customers' benefits on Walton washing machine's purchase are included: ease monthly installment facility with a minimum down payment of only Tk 999, interest-free EMI facility for 12-month, 3-month replacement guarantee, free installation, etc.
Khondaker Ashiqul Hasan, brand manager of Walton Washing Machine Division, said that Walton Washing Machine are providing an easy and convenient installment facility to customers. Walton offered monthly installment of only Tk 1,665 on Q70 model; Tk 1,905 on TWI80 model; Tk 1,815 on TQP125 model; Tk 2,619 on TQM 150 model; Tk 2,678 on AFT80 model; Tk 2,857 on AFM90 model and Tk 2,128 monthly installment on the purchase of AFC90 model washing machine.
Besides, a 3-months replacement facility as well as maximum 12-year warranty on motor are available on Walton washing machine.
Yasir Al Imran, CEO of Walton Home Appliances, said that according to the biomechanical parameters, there is a risk of experiencing various muscular problems when washing clothes in a usual way. Sitting randomly puts constant pressure on the upper structures of the muscles on human bodies. Dangerously leaning forward while washing clothes, bending the body, kneeling, back and neck pain due to squatting, muscle spasms, spinal curvature, disc dislocation, shoulder pain, elbow pain, wrist pain and knee pain with other skin problems.
He also said, at this COVID-19 situation, we should all return home from outside and wash our clothes quickly when washing machine can be a very effective way. Walton's washing machine sterilizes 99.99% germs and bacteria and disinfects the fabric. Under ongoing Walton Mega Eid Festival campaign, washing machine buyers can get cash vouchers worth lakhs of Taka with guaranteed discounts. There is an opportunity to exchange Walton brand new washing machines instead of used or outdated washing machines of any brand. Purchasers can use credit cards of 29 banks with enjoying zero interest facility for up to 1 year.
Walton is producing and marketing international standard washing machines in its giant factory in Gazipur. Walton washing machines are becoming very popular among all sections of customers as they manufacture world class products and provide them at affordable prices. As a result, the demand for Walton washing machine is constantly increasing. Walton washing machines are being exported many countries, including India, Nepal, Yemen and East Timor.
There are currently 19 models of semi-automatic and automatic top and front loading Walton washing machines in the market. Washing machines with a capacity of 6 to 15 kg cost between BDT 8,990 and 59,900. Walton's energy efficient washing machines are visually pleasing enriched with the latest features and designs. Walton has 76 service centers across the country under the ISO certified Service Management System to provide fast and best after sales service.
Milton Ahmed/Nasim