USA roadshow quite successful: BSEC chairman
Uday Hakim, from San Francisco || risingbd.com
Published: 11:19, 5 August 2021 Update: 17:18, 5 August 2021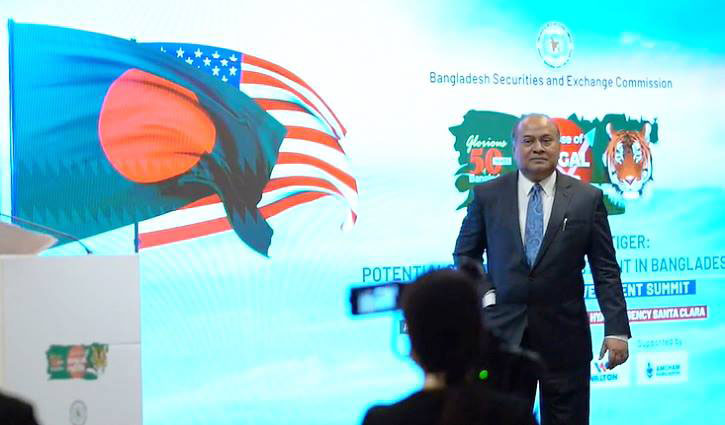 Professor Shibli Rubayat-Ul-Islam, chairman of the Bangladesh Securities and Exchange Commission (BSEC), yesterday said that the purpose and goal of the recent roadshows in the United States was quite successful. The economic development of Bangladesh, the overall situation of the country's stock market, investment-friendly facilities and possibilities, development activities and the positive steps taken by the government were highlighted in the roadshows.
He said, 'The expatriate and American investors invited to these mega international events were enthralled by the overall progress of the policy in various sectors including economic development, investment-friendly opportunities and prospects, development activities, and the stock market in Bangladesh.'
Shibli Rubayat, and also a former Dhaka University teacher and researcher, came up with the comments while chatting with Uday Hakim, advisory editor of the country's leading newsportal risingbd.com, after the roadshows.
Earlier, the week-long roadshow, an initiative of BSEC, to showcase the strength and opportunities of business and investment in Bangladesh for the investors abroad, were successfully held in four American cities- New York, Washington DC, Los Angeles and San Francisco- from July 26 to August 2, 2021.
The main title of the USA roadshow was- 'THE RISE OF BENGAL TIGER: Potentials Of Trade and Investment in Bangladesh.'
'The purpose of the roadshow is to present the scenario of the overall progress of Bangladesh to the world business leaders as the recognized investors are getting old and negative information about Bangladesh over the years. We have presented the real picture of Bangladesh with informing them of how Bangladesh is growing and why Bangladesh is an excellent place for investment. We also noticed them that Bangladesh no longer comes for asking help or loans, but now Bangladesh comes here for building the trade and business relationships,' he echoed.
He says, 'We've given answers to many questions of why now is the high time to invest in Bangladesh. We've presented the answers with various information and statistics to the investors at different events. The roadshows have also highlighted of how a large market has been created in the country with skilled manpowers and increasing purchasing power of the people.'
Informing that they get a lot of interest and enthusiasm among the investors during the roadshows where many of them have promised to invest in Bangladesh, Prof Shibli Rubayat said, 'We hope that many investors from all over the world will be keen to invest in Bangladesh as they got positive comments on Bangladesh throughout the roadshows and Bangladesh will move forward utilizing this opportunity.'
Earlier, the first phase of the roadshow was held at Manhattan, New York (July 26, 2021) with the second roadshow at Ritz-Carlton Hotel, Washington DC on July 28.
The third phase of the week-long roadshow was held on July 30 at the Inter Continental Los Angeles Downtown while the final phase of the BSEC's roadshow was at the Hyatt Regency Santa Clara, Silicon Valley on August 2.
Mahfuz/AI