Walton inaugurates ceramic, nonstick, HTR coating unit at factory
Economic Reporter || risingbd.com
Published: 16:57, 22 November 2021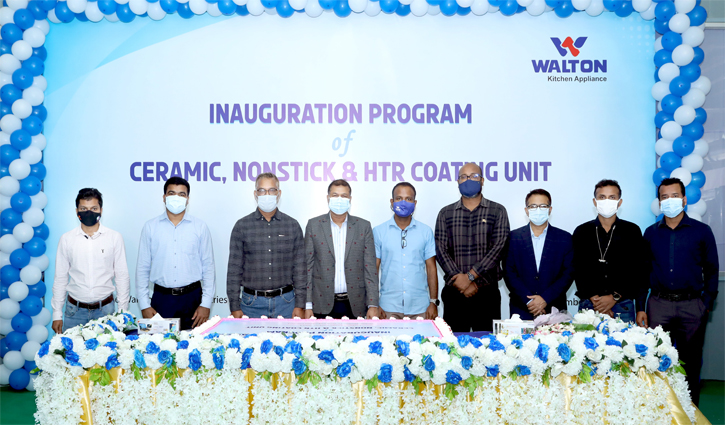 Walton officials at the ceramic, nonstick and HTR coating unit unveiling ceremony.
Bangladeshi electronics giant Walton has added a new state-of-the art ceramic, nonstick and HTR coating unit to its kitchen appliance production line.
Walton's kitchen appliance products will be more attractive and durable with the new coating system which is approved by the United States Food and Drug Administration (FDA).
The coating of various home appliance can be done in the factory equipped with European standard advanced machineries. The unit has 24 lakh production capacity annually.
On Sunday (November 21, 2021) ceramic, nonstick and HTR coating unit was inaugurated at Walton Hi-Tech Industries Limited (WHIL) in Gazipur. WHIL's Director Nishat Tasnim Shuchi, who is now staying at the USA, sent a message wishing new unit's overall success.
WHIL's Deputy Managing Director Alamgir Alam Sarkar, Senior Executive Directors Yusuf Ali, Tapash Kumer Mojumder and Nizam Uddin Mazumder, Walton Kitchen Appliance's Chief Business Officer (CBO) Mahfuzur Rahman, Head of Sales (Home Appliance Distributor Network) Kamal Hossain, Deputy CBO Hasibul Islam, Senior Additional Director Abdullah Al Asif, Kitchen Appliance's Head of Research and Innovation (R&I) Yusuf Iqbal, Deputy Head of R&I Mustainur Rahman, Head of Production Shahriar Kabir and Brand Manager Fazle Rabbi Khadem were present, among others, on the occasion.
Walton Kitchen Appliance's CBO Mahfuzur Rahman said that Walton has created history as it has added this coating unit of advanced technology for the first time in Bangladesh. It makes us proud. Coating system will ensure 100% quality in the product manufacturing process. The products will be exported after meeting the local demand.
Mustainur Rahman said that the coating is actually a type of liquid polymer applied mechanically to an object or business products making the materials more attractive, non-sticky and sustainable.
He said that Rice Cooker Inner Pot, Cookware (Frypan, Casserole, Oakpan, Milk pan, Pizza pan, Ruti Tawa), Electric Iron Soleplate, Multi Cooker, Cracker, Pressure Cooker, Toaster, Sandwich Maker, Oven Bakeware, Washing Machine, Electric Ranges, Water Heating Elements, Barbeque Grills, Air Fryer and various parts of electrical and home appliances can be coated with this unit. Walton's coating unit is completely hygienic and environmentally-friendly as it is free of Perfluorooctanoic acid (PFOA), toxic lead and cadmium.

Dhaka/ Mahfuz/Mukul