Walton launches world`s first-ever 3-in-1 converter AC with Bluetooth & air plasma
Desk Report || risingbd.com
Published: 17:03, 7 August 2022 Update: 17:05, 7 August 2022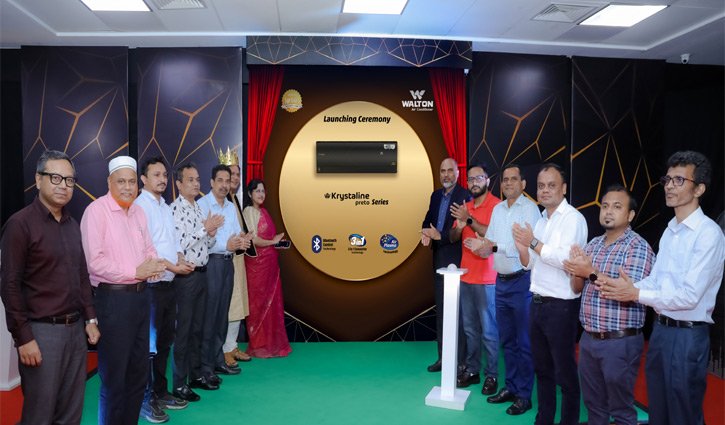 Walton Hi-Tech Industries PLC`s MD and CEO Golam Murshed is unveiling Krystaline Preto Series 3-in-one converter AC with Bluetooth and Air Plasma technology.
Country's number one electronics brand Walton has launched 3-in-1 converter air conditioner featured with Bluetooth and air plasma technology. This is the world's first-ever air conditioner that features all three technologies - Bluetooth, air plasma and 3-in-1 converter.
Walton released the black colored latest model of 1.5 ton AC in its Krystaline Preto series that can be converted to 1 or 0.75 ton in accordance with the room size.
Along with the remote controller, customers can also operate or control this huge energy saving AC through smartphone via Bluetooth. The latest model of Walton AC also designed with air plasma technology, which will destroy bacteria and viruses existence in the air.
Walton Hi-Tech Industries PLC's Managing Director and CEO Golam Murshed unveiled this state-of-the-art technology's AC at a launching program held at the auditorium of Walton Corporate Office in the capital on Sunday (August 7, 2022).
The program was also attended by, among others, Walton Hi-Tech's Deputy Managing Directors Nazrul Islam Sarker, Amdadul Hoque Sarker, Eva Rizwana Nilu and Humayun Kabir, Walton Plaza Trade's CEO Mohammad Rayhan, Senior Executive Directors SM Zahid Hasan, Firoj Alam, Ariful Ambia, Dr. Sakhawat Hossen and Amin Khan, Walton AC's Chief Business Officer (CBO) Tanvir Rahman, Deputy CBO Sandeep Bishwas.
Ariful Islam, Head of Walton AC Research and Innovation, said: The Krystaline Prito series AC is designed with three-in-one converter technology, for which customers will be able to convert this new model of 18 thousand BTU per hour or 1.5 ton AC to 12 thousand BTU per hour or 1 ton and to 9 thousand BTU per hour or 0.75 ton AC as per their requirement. In this case, Walton's converted 1 ton AC saves 20.18 percent more electricity than the conventional 1-ton AC. Comparing with the conventional 0.75 ton AC, Walton's converted 0.75 ton AC saves 30.53 percent of more electricity.
He said, Walton's new AC is also featured with air plasma technology to ensure a healthy and comfortable environment in the room. This technology destroys the bacteria and viruses existence in the air. Eco-friendly R-32 refrigerant is used in this inverter technology's AC, which saves more electricity and also keep the environment clean. Its 4D airflow technology instantly delivers healthy air to every corner of the room and the turbo cool technology makes the room cool quickly.
Bluetooth technology is the latest additions to Walton's Krystaline Preto series AC. The feature will help users operate or control the Walton's converted AC through smartphone via Bluetooth without internet connection.
Walton AC's CBO Tanvir Rahman said: Walton has a strong research and innovation team consisting of skilled and talented engineers to produce most energy efficient ACs with world's latest technologies. As a result of their constant research and technological development, new innovations are added to Walton AC. Recently, we released the subcontinent's highest energy efficient AC with 5.5 star rating. Walton also developed the world's first offline voice control AC. Now we have released the world's first-ever AC with Bluetooth, Air Plasma and 3-in-one converter technology.
He also noted that Walton is now at the top in the country's AC market with 32 percent market share winning the trust and love of customers. Walton will release new innovations and technologies ACs with latest features for the customers in future.
Customers are enjoying one year replacement facility, along with 10 years guaranty on inverter compressors of Walton AC. The world-class Walton AC is being exported to various countries of the world including India, Nepal, Maldives, Yemen and so many countries. Apart from cash purchase, customers can also buy Walton AC at installment and EMI facilities.
In Bangladesh, Walton has been operating 79 service centers under the ISO certified Service Management System to provide prompt and best after sales service to AC customers. Besides, Walton is serving AC customers nationwide through service partners. Meanwhile, Walton's highly experienced as well as skilled engineers and technicians are providing free service to AC buyers in every 100 days.
Akram Hossain/Nasim