Walton offers cashback up to Tk 1 lakh, free products on fridge, washing machine
News Desk || risingbd.com
Published: 18:14, 21 November 2022 Update: 18:16, 21 November 2022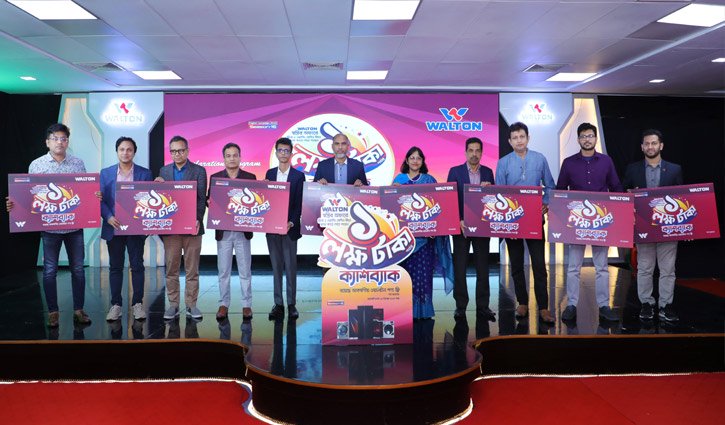 Senior officials pose for a photograph at the 'Walton Digital Campaign Season-16' declaration program held at Walton Corporate Office in Dhaka
Bangladeshi electronics giant Walton has commenced its 'Digital Campaign Season-16' with the offer of maximum Tk 1 lakh worth of cashback and free products on the purchase of its fridge and washing machine, following huge success in the previous seasons. The customer benefits under 'Swasthir Offer' are available from November 21, 2022 till further notice.
Walton is conducting the countrywide digital campaigns to provide faster and best after-sales service for customers through online automation. Season-16 is kicked off as the previous seasons of the campaign have got huge response from countrywide customers. The fridge and washing machine customers will have chances to get up to Tk 1 lakh as cashback and different other free products under 'Swasthir Offer'.
The customer benefits was disclosed at the declaration programme of 'Digital Campaign Season-16' held at Walton Corporate office in the capital on Sunday last (November 20, 2022). Along with the season-16, the 'Hot Sale' campaign of Walton fridge will also be continued.
The declaration programme was attended by, among others, Walton Hi-Tech Industries PLC's Deputy Managing Directors Eva Rizwana Nilu, Amdadul Haque Sarker and Humayun Kabir, Plaza Trade's CEO Mohammad Rayhan, Senior Executive Directors SM Zahid Hasan, Amin Khan and Dr. Shakhawat Hossen, Chief Marketing Officer Firoj Alam, Head of Business Intelligent Ariful Ambia, Walton fridge's Chief Business Officer (CBO) Tofail Ahmed and Home Appliance CBO Al Imran.
Speakers at the function said that the digital registration of the product is being done while customers purchase products from any Walton Plaza, distributor showroom or E-plaza across the country, along with providing scratch cards. Customers will get up cashback up to Tk 1 lakh and various sorts of free products through the scratch cards. Officials concerns at the showrooms or Plazas will hand over the cashback or free products.
Refrigerator's CBO Tofail Ahmed said, "Walton is manufacturing and marketing 200 plus models of refrigerators with various capacities. Prices of these fridge between Tk 14,990 to Tk 1,08,990. To give comport to the customers in buying Walton fridge, customers are offered cashback, free products and so many benefits. Walton fridge customers are also enjoying a 1-year replacement benefit with a 12-year compressor guarantee."
Home Appliance CBO Al Imran said, "Walton is currently producing and marketing over 30 models of semi-automatic, automatic top and front-loading Walton washing machines. Among these, there are 11 models of semi- automatic models with the price ranges from Tk 10,850 to Tk 18,850. Besides, 13 models of automatic top loading system washing machine are availed between Tk 22,950 to Tk 49,950. In the domestic market, 10 models of automatic front loading system washing machine of Walton brand are also available within the price ranging from Tk 34,250 to Tk 68,950. Walton washing machine provides maximum 12-year warranty in its inverter motor with free installation service facility."
Authorities said, through digital campaign, detailed information including the name of the customer, cell phone number and model number of the purchased product being stored on Walton's server. As a result, customers get swift and best after sales service from Walton service centers across the country even if they lose the warranty card. Various benefits are being provided to ensure customers' spontaneous participation in the campaign.
Akram Hossain Polash/AKA