Businessman Masud Karim in N'ganj gets Japanese car for free on Walton AC purchase
News Desk || risingbd.com
Published: 11:07, 7 June 2023 Update: 11:19, 7 June 2023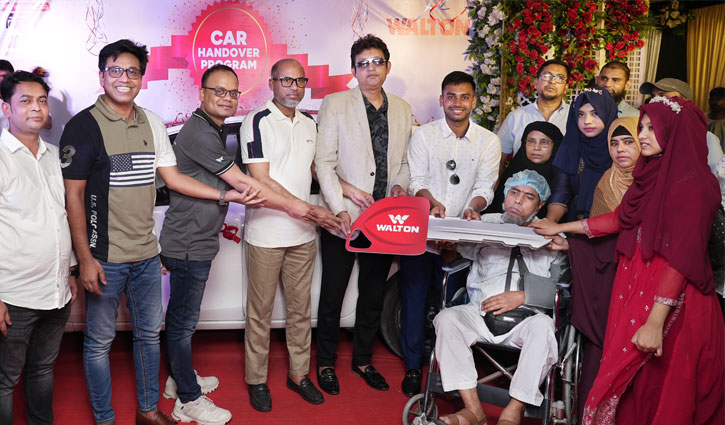 Walton's Senior Executive Director renowned Film Actor Amin Khan, Walton's Sports Brand Ambassador Bangladesh's National Cricket Team All-rounder Mehedi Hasan Miraz and Walton DMD Amdadul Hoque Sarker are handing over the key of the car to Masud Karim.
Masud Karim, a hospital businessman at Chashara in Narayanganj, was awarded a Japanese car for free after he had purchased a Walton brand air conditioner (AC) under the nationwide ongoing 'Walton Digital Campaign Season-18'.
Earlier, Raton Lal from Jashore's Sharsha upazila also got a Japanese car for free on the purchase of a Walton brand refrigerator under the local brand's ongoing digital campaign.
Walton is conducting the 'Digital Campaign' across the country to accelerate the initiative of building customers database for delivering online based swift and best after sales service. Centering the upcoming Eid-ul-Azha, the Bangladesh super brand launched the campaign Season-18 and offered stylish car for free, attractive amounts of cash vouchers, various sorts of free products on the purchase of Walton brand fridge, TV, AC and washing machine from any Walton Plaza, distributor outlets or online sales platform e-plaza. Customers will enjoy the benefits until July 15, 2023.
On Monday last (June 5, 2023), Walton's Senior Executive Director renowned Film Actor Amin Khan and Walton's Sports Brand ambassador Bangladesh's National Cricket Team all-rounder Mehedi Hasan Miraz officially handed over the car key to Walton AC customer 'Masud Karim' at a splendid programme held at Badhan Community Center in the city's Chashara.
The car handover ceremony was also attended by, among others, Walton's Deputy Managing Director (DMD) Amdadul Hoque Sarker, Walton AC's Chief Business Officer Tanvir Rahman, Senior Executive Director Md. Firoj Alam and Walton's exclusive showroom 'Electro Hut's Proprietor Sankar Chakrabarty.
Masud Karim with his 4-member family is residing at Khanpur main road in the town. To get rid of the sweltering summer heat wave, Masud purchased a 1.5-ton Walton AC from Electro Hut on May 31 this year. After that, he digitally registered the newly purchased AC with his phone number and then an SMS from Walton was sent to his phone number with the notification that he was awarded a car for free on digital registration of his newly purchased Walton AC under the digital campaign's season-18.
Thanking Walton, Masud Karim said, 'I became speechless after receiving the SMS of getting a car for free just on the purchase of a AC. Our trust and faith on Walton brand are further increased. Giving a free car just on the sale of an AC has ultimately expressed the Walton's strength. My family is grateful to Walton.'
Walton's Sports Brand Ambassador Cricket All-rounder Mehedi Hasan Miraz said, 'Today's programme proved that Walton has strongly kept its customers' promise. Bangladesh's No-1 brand Walton is producing international standard products at its own manufacturing plants.'
During his speech, the Bangladesh's cricket all-rounder called upon all the customers to buy local brands' products to boost the local industries.
Walton's DMD Amdadul Hoque Sarker said, Walton has greatly emphasized on delivering good quality products and also providing highest customers' benefits. Centering the upcoming Eid-ul-Azha, Walton has offered free cars and many other special benefits to customers. Already, a good number of customers across the country got free products buying Walton products. And two customers were awarded free cars each buying a fridge and an AC of Walton.
Authorities say, the digital registration of Walton fridge, TV, AC and washing machine is being done immediately after purchasing the products. Then, SMS regarding car or other gifts are being sent to customer's cell phone through a fully computerized system. Officials concerned at the showrooms or Plaza hand over the respective gifts to customers.
Mahfuz/Palash/AI