How to write a professional e-mail
SK Kamruzzaman || risingbd.com
Published: 17:41, 24 September 2020 Update: 18:09, 24 September 2020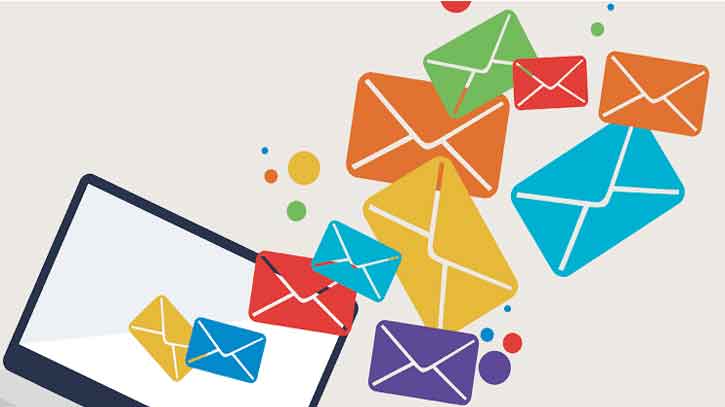 Electronic mail (also known as email or e-mail) is one of the most commonly used services on the internet, allowing people to send messages to one or more recipients. But, we make a lot of mistakes when we first send an e-mail to someone.
To avoid mistakes in sending e-mails, we can follow some instructions:
1. Identify your goal
Before you compose an e-mail, fix your goal- Why are you sending this mail? You have to ensure everything you include in your message. For instance, let the recipients recognize what the report is, the reason behind this mail, what types of feedbacks you sought from this e-mail, and so on.
2. Who's your audience?
Senders have to compose for the individual they are sending the e-mail to. If the recipient is formal, write the e-mail in a standard language. On the off chance that they are casual, compose it in their language.
3. Use a meaningful subject line.
This is an essential part of a professional e-mail where many people ignore it. The subject line is the first thing the recipient will come into contact. It's imperative to make your subject line clear and brief.
Most experts will recommend that you use 50 characters or less. This is the same as about 5-7 words. However, many people now use their mobile devices to check an email which means some subject lines could get cut off. That means the best subject lines for all devices would be about 25-30 characters or 3-5 words.
Examples of some subject lines to attract your recipient's attention:
1. We appreciate your support!
2. Please share your experience with us
3. Request for a recommendation
4. Meeting date changed
5. If you are not sure what subject line is to be used, think about the purpose of the e-mail and then describe it in a few words and then proofread it before you proceed.
6. Greet the person you're writing to.
Dear, Greetings or Salutations?
It might appear to be odd to address a stranger on the internet as Dear, but it's standard informal correspondence. Other respectable but less commonplace options include Greetings and Salutations.
When possible, it's best to put the recipient's name. Follow it with a comma or colon, as in these examples: Dear Rahman, Dear Mr. Linkon, Dear Ms. J. Bari.
If you're not sure whether a woman you're writing to is Ms. or Mrs., then Ms. is usually the safer option. Another solid, gender-neutral approach is to simply put the recipient's full name like Dear Alex Lee.
By contrast, the generic Dear Sir or Madam seems impersonal and should be avoided. Explain what you're writing about.
There are two questions you need to answer plainly. What are you hoping to make happen and how can the person you're writing help? For instance:
1. I'm writing to inquire about your research on COVID-19
2. I'm Coordinator at PSTU Career Club looking to schedule a Zoom live interview session on your performance in the GRE test.
3. My dairy firm requires expertise in the Veterinary field, and several colleagues tell me your insight is unrivaled.
Sign off with an appropriate closing There are lots of ways to end an e-mail before putting your name, but in the interest of professional decorum. Some of the most reliable options are:
1. Sincerely
2. Appreciatively
3. Best regards
4. Respectfully
Take a moment to proofread
Proofreading is the act of searching for errors before you hand on your e-mail.
Errors can be both grammatical and typographical, but they can also include identifying problems with the narrative flow of writing mail, problems with concise writing, and finding any word processing errors.
Double-check that any request you're making is straightforward and easy to understand, but not abrupt or presumptuous.
Keep your e-mail clean!
Keep in mind; you are composing an expert e-mail. So, ensure to abstain from being chaotic when answering to a string or when sending an email. In this case, you can clear the carets to access the Find and Replace command or just do away with all the emails and send a new one.
Writer: Student, Doctor of Veterinary Medicine (DVM), Patuakhali Science and
Technology University (PSTU).
PSTU/Mahfuz/Nasim