100 writers get Risingbd's Content Writing workshop certificates
M Mahfuzur Rahman || risingbd.com
Published: 18:15, 24 October 2020 Update: 18:55, 24 October 2020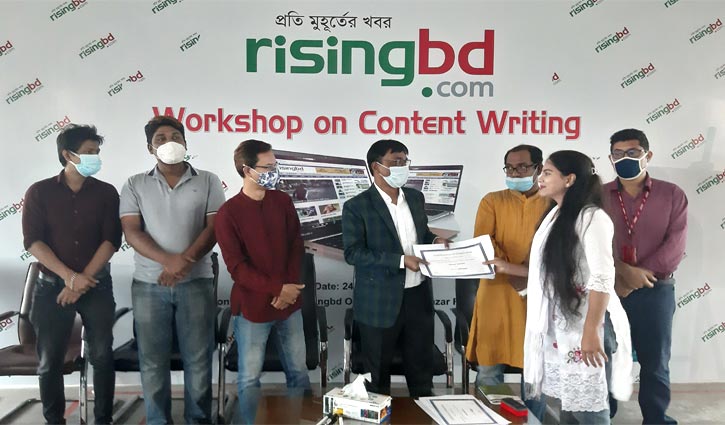 The country's leading online news portal risingbd.com organized a day-long workshop titled, 'Content Writing' at its office at Mirpur in the capital on Saturday (October 24).
The workshop began around 11am and ended around 4pm. The workshop was designed to improve the professionalism and writing skills among campus-based writers and reporters across the country.
Risingbd's Advisory Editor Uday Hakim, Risingbd's Executive Editor Taposh Roy, News Editor Mohammad Nurul Haque and Deputy Assistant Director of Walton Group's Creative and Publications Department M Mahfuzur Rahman were present at the workshop as trainers.
What's news, news structure and writing styles, news gathering and editing, feature writing, the importance of learning English and practicing journalism in English are mainly discussed in the workshop.
Over 100 campus-based young reporters and writers of different educational institutions participated in the workshop and received participation certification after the workshop.
Uday Hakim, and also the Walton Group's Executive Director, after the training session, has urged the young writers to write more and more in both Bangla and English for the portal.
'We've created the campus department so that your writing skills are developed. We are making new writers here. I think the skills and knowledge of the participants have been increased after taking part in the workshop,' he adds.
He also said that Risingbd's Content Writing Workshop will help shape their careers for those who can't get out of the career dilemma.
Dhaka/Mahfuz