Discover your teachers' tough jobs during covid-19
Shopnil Akash || risingbd.com
Published: 16:53, 29 October 2020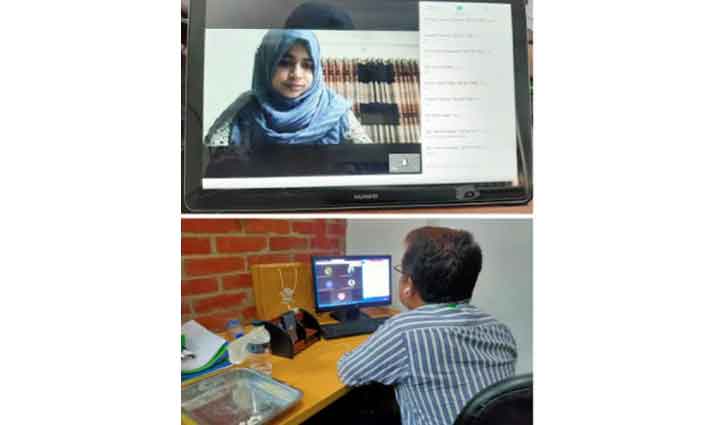 There are many professions in the world. The most respectable profession is teaching. You may be wondering how many big professions there are in the world, judges, barristers, scientists, prime ministers and many more. But this small teaching profession is so great! Surprising to hear but it is real. Yes, this is real.
When I get bored of sitting at home after six long months of the ongoing pandemic, I go to campus to take a look at my favourite campus. Then I was surprised to go to the lab in our department. My favourite teachers are creating various lab tutorials for us.
We are now getting video tutorials sitting at home easily. The story behind making these video is probably unseen to us. The teachers have been coming to the university and making video lectures for the students since they are not sitting at home.
Due to the closure of educational institutions, teachers were also supposed to be on general leave. But the teacher is a great craftsman who does not wait for any instruction. They can continue their works from any place without worrying about space, time. Their job is to shine the light of education among the students and they are steadfast in the works in all adverse conditions.
Now there is no opportunity to take classes directly on campus. I am doing classes online every day. Have I ever seen how hard our favourite teachers are taking our classes? Without the security of life, they are trying in different ways to take our classes!
They are not just calming down with zoom or google meet classes, they are also making video lectures for us in different formats while sitting at home. If you look at Facebook or social media, you will see the teachers of every educational institution, they are using various social media to create quality classes for students. And this whole work is on the teachers' own initiative.
Teachers are not the only ones teaching us. They are trying to keep our minds well by saying inspirational words. They are constantly boosting our morale so that we do not feel alone during this time of closure; we do not go into depression. They are also not waiting for our thanks.
Maybe the vaccine will come out once against the Coronavirus. Everything will be gone normal again as before. But this attention of teachers will never be forgotten.
(Shopnil Akash is currently studying Pharmacy at the Daffodil International University)
DIU/Mahfuz