When angels growing in dust!
Anik Rahman || risingbd.com
Published: 16:46, 29 November 2020 Update: 17:22, 29 November 2020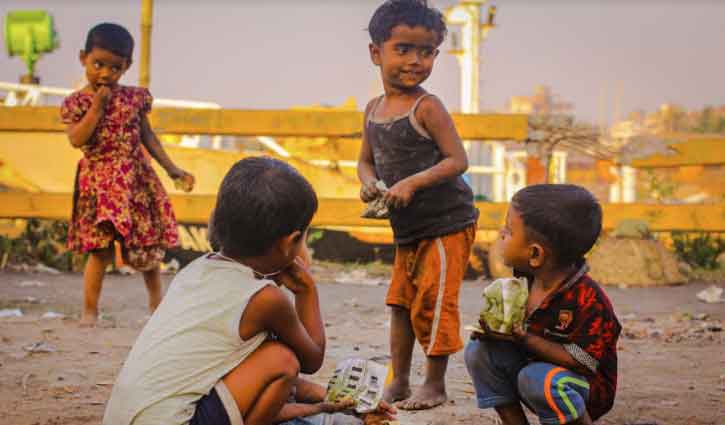 Henry Ward Beecher once said, 'Children are the hands by which we take hold of heaven.' It's alright! But it's a matter of regret that scores of children are growing up with undernourishment with an unhealthy environment in different parts of Bangladesh.
Children here are born into poverty and experience a wide range of health issues with poverty putting them into additional strain on their health as well. This is a reflection of the harsh reality that our angels face in society.
Children may be compared to the flowers, as they possess innocence like flowers here. Their hurt is not polluted by any hatred, enmity, violence or jealousy. But, there is a concept that flower fits in the garden. Look at this photo, what do you see here? Flowers are spoiling in the dust? Yes! The flowers, however, are smiling indeed!
This is a photograph which represents the children of a very common class of Bangladesh. These are the children of day labourers, who work in the portside of Amin Bazar. The labourers here are forced to live hand to mouth with their little income which also leads the children to live an unhealthy life.
For most of the children, both of their fathers and mothers work as day labourers. As a result, the children also have to co-operate with them. The children have to wake up early in the morning avoiding proper sleep and have to go with their parents' workplace.
Find the story of a 6-year-old ill-fated girl Shahnaz. Her father and mother work here as day labourers in the area. Shahnaz comes here with her parents regular. Her parents say they have to work daily to satisfy their hunger. At the end of the day, they do not have enough money for savings for their future. They are not even sure of what they will eat tomorrow!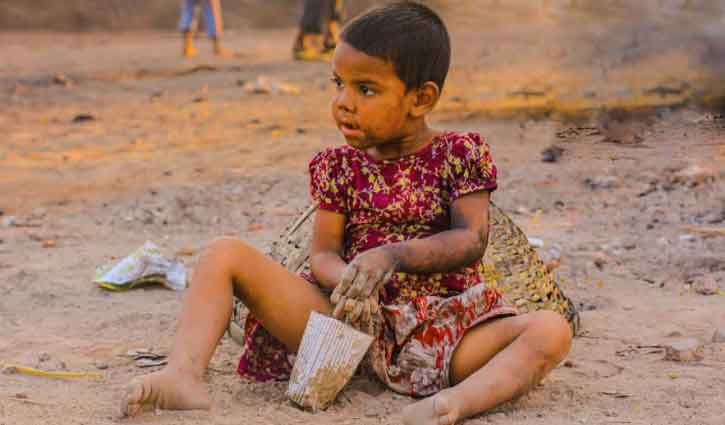 Survey says, almost 80% of these children do not get any primary education. Consequently, these children, who are already suffering from family struggles due to the financial crisis, build a pre-mind setup to work and survive in this cruel world. That is a fact why child labour number is increasing in Bangladesh.
The children, however, here learn to become self-dependent. They enjoy their own company and make their own circle as their parents are always busy with their works. These parents do not even know whether their child is hungry or not.
Sometimes, they might come towards their children hearing the lamentation. As a result, these children become the hunt for malnutrition.
Moreover, amidst the ongoing pandemic, these children are not getting safety or health treatment to get rid of it. Their parents are also unaware of their children's safety as well.
Psychologists say a child needs proper company and time of its parents for mental growth. But here, in this context, children do not get the companion of their parents. They might grow physically, but that is the reason why the mental growth of these children is not up to the mark. Thus they are deprived of their basic needs including education and physical treatment. They began to feel neglected as their parents had always been felt.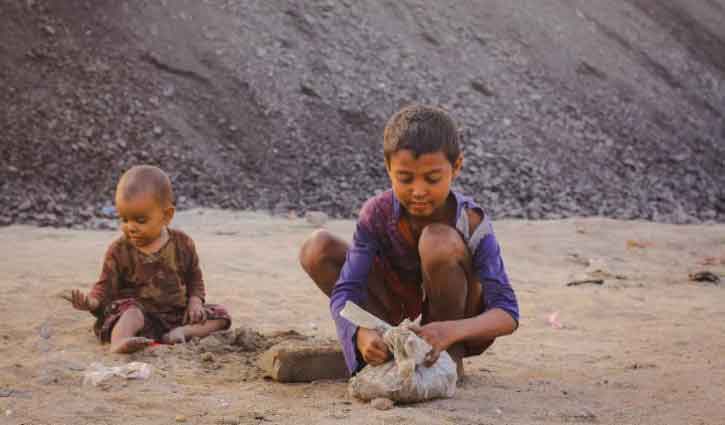 That is how we are treating our little angels. They do not feel our mistreatment over them. Now, we should decide what we want to see. We want to see our flowers smiling and shining more and more. We don't see them spoiled in front of our eyes in negligence. These children are the future of our nation. If they are lagging behind, the nation will not get anything positive from them.
These poor children do not know about their future. They don't know their aim and even they don't know what they are going to be! How can we get them to hope to live? How can we shine their lives in the coming days?
(Anik Rahman studies Mass Communication and Journalism at the Jagannath University)
JnU/Mahfuz/Nasim