Coach Kamrul Hasan's works for youth development
Golam Morshed Simanto || risingbd.com
Published: 16:04, 28 February 2021 Update: 14:26, 3 March 2021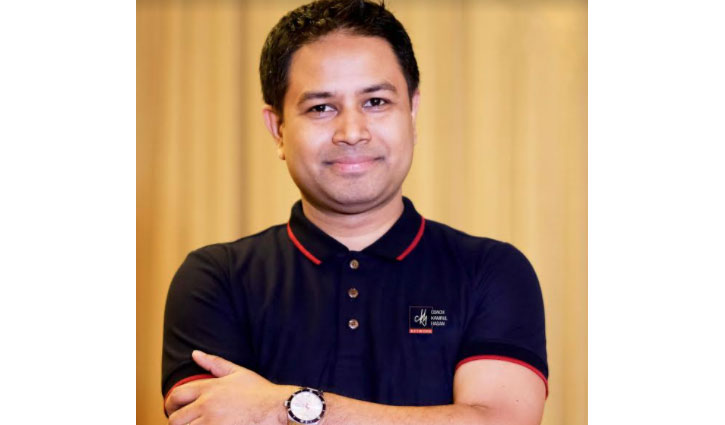 Coach Kamrul Hasan is known as an international coach, consultant, and speaker. He has 16 years of experience working in the business development and relationship management sectors. He established CKH Network in 2019. CKH Network is working to make the youth skilled. Golam Morshed Simanto chatted with him recently. Risingbd.com, one of the leading internet newspapers, has summarized the main issues for its readers.
Risingbd: Tell me about yourself?
Kamrul Hasan: I'm Coach Kamrul Hasan, the founder and CEO of CKH Network. I am a John Maxwell certified International Speaker and Coach.
Risingbd: Tell us something about your educational life?
Kamrul Hasan: I received my required education from nature and from the experience of my life. But in academic, I completed my MBA from North South University. With that, I have received many pieces of training from different parts of the world from top-class instructors and institutions.
Risingbd: Your working life?
Kamrul Hasan: My work life is a journey that has shaped me and forged me to the person I am today. I started doing tuition in my college year. Later in university, I started to sell books on the street due to survival. I entered into the corporate world back in 2001 at HSBC. Then I worked in Huawei, ZTE, Ericsson, Dun and Bradstreet and Brac Bank in different capacities.
Risingbd: What is CKH Network?
Kamrul Hasan: CKH Network is a full-fledged education platform with the vision to educate, empower and enlighten the youths of Bangladesh. CKH Network aims to promote and encourage the pool of creativity and innovation which lies dormant in the bright minds of the next generation, and bring about a wave of change.
We aspire to help university students, fresh graduates, and young professionals to acquire the right skill-set to thrive in the professional world and personal excellence. CKH Network platform is strategically designed to create opportunities for lifelong learning, building relationships, connecting and engaging our youths with top class industry leaders and successful professionals from all over the world.
Risingbd: Why are you working for the young people?
Kamrul Hasan: One of the key obstacles to our country's growth is the unemployment rate. 46% of our graduates are facing the unemployment curse. The job market is expanding but our students are not getting job due to a lack of skills and skills gap from industry knowledge & University knowledge.
CKH Network aims to work on reducing the gap. Our vision is to bring the unemployment rate in this country to zero. A prosperous Bangladesh will be created through skilled manpower. The youth of Bangladesh will build this country along with their self-development. The youth of Bangladesh will become role models in the world market. Bangladesh will stand tall in the heart of the world, not as an overpopulated country but as a nation of skilled manpower.
Risingbd: What're the most worrying things about working with young people?
Kamrul Hasan: I like to see a lot of interest in any subject among the youth of this generation. At the same time, I am very worried about their endurance. Because I see the interest in them but after a few days that interest is no more.
Even if they are the most skeptical of any subject, they completely forget about it. And our youths sometimes get confused due to lots of different offerings but couldn't select the right one for their growth.
Risingbd: What are the future plans of CKH Network to empower the youth?
Kamrul Hasan: Since we have been working for so long on soft skill development of the young generation to eliminate unemployment, we are also working on how to increase employment for them.
Recently we have taken steps to create their employment system and new entrepreneurs. In a society that is rapidly progressing, one often takes for granted why and how these changes occur.
In reality, the driving force behind progress is innovation and creativity--the creation of new ideas and, the ability to hone and develop them. This is precisely why the need for entrepreneurship is even more acute now as we enter the new decade. CKH Network is launching Next Gen Entrepreneurs Stay together or NEST where we will incubate excellent business ideas and teams with full-fledged business support and global networking opportunity.
Risingbd: Tell your future plans?
Kamrul Hasan: We as a society need entrepreneurs to spearhead progress and bring about change. In finding meaning in our lives, the next step is to strive for a purpose. CKH Network has come to fruition, with the sole aim of tapping into every individual's inner potential.
If you want to be a super-achiever then our message for you is "CKH Network" has a dream about you, we care about you and it's our responsibility to help you to achieve your dreams. That's how our youth will turn into our assets. So join today and build yourself for a brighter future."
Risingbd/Mahfuz