NSTUJA demands justice over Noakhali journo murder
​​​​​​​NSTU Correspondent || risingbd.com
Published: 12:56, 4 March 2021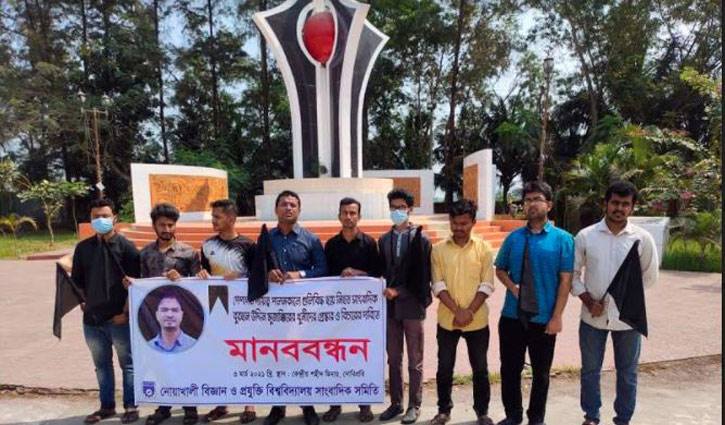 Noakhali Science and Technology University Journalists Association (NSTUJA) formed a human chain to demand exemplary punishment for everyone involved in the death of journalist Borhan Uddin Muzakkir in Noakhali's Companiganj.
The human chain was held in front of the central Shaheed Minar of the university on Wednesday (March 3). The program was conducted by Mainuddin Pathan, general secretary of NSTUJA while NSTUJA's advisor Dr. Abdullah Al Mamun, NSTUJA's president Abdur Rahim, NSTUJA's vice-president Himel Shahriar and members of NSTUJA were present.
The speakers said that the murder of journalist Muzakkir has written a black chapter in the history of newspapers and journalism in Bangladesh. They demanded the punishment of the culprits involved in the torture of journalists at different times, a speedy trial of the murders of Sagar-Runi and also sought justice of killing writer Mushtaq as soon as possible.
NSTU/Fahim/Mahfuz