Find Yusuf Munna's translated book Ikigai
Rajib Shohan, University of Chittagong || risingbd.com
Published: 17:52, 7 March 2021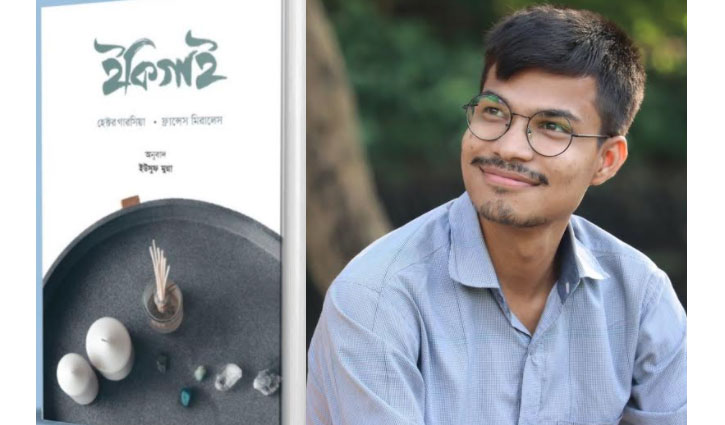 Okinawa, an island in the southern parts of Japan, attracts the world's largest amount of centenarians, meaning people over the age of 100. Despite their age above the average lifespan around the world, they live a perfectly healthy, happy, and peaceful life.
This is the Japanese mystery that author Hector Garcia and Francesc Miralles tried cracking, and the book 'Ikigai' is a compilation of their findings in their quest to crack the secret to happiness and long life hidden within the centuries-old Japanese culture.
'Ikigai' in Japanese means 'A reason for being and it carries the culture of 'The Fun in a busy life.' This culture of living through finding happiness in hard work plays an essential part in the long and happy life of the Japanese.
They also noted their food habit, their drive for work and life ethics as essential reasons for their happiness and these findings can act as a guideline for anyone willing to lead an effective and happy lifestyle.
To make the book more accessible to Bengali Readers, Yusuf Munna, a former student of Chittagong Collegiate School and a Development Studies student at Khulna University, has compiled a translation of this book in Bangla.
Yusuf is also the founder and CEO of Reflective Teens, an internationally recognized nonprofit teen-based creative platform that aims to nurture teenagers' creative abilities and prepare them for the present and the future.
Asking about the book, Yusuf said, 'The word Ikigai itself is full of mystery. Knowing about Okinawa Island, their people and lifestyle have piqued my curiosity, and that intrigued me to translate this book.'
CU/Rajib/Mahfuz