Outsiders hamper research activities at BAU
Atikur Rahman from BAU, Mymensingh || risingbd.com
Published: 14:36, 8 March 2021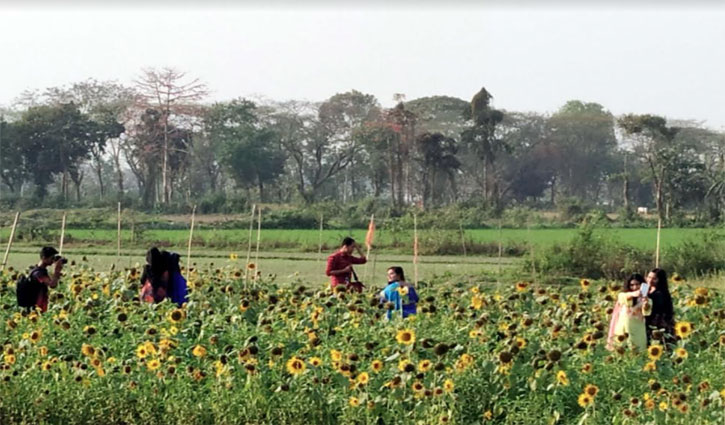 The university premises are full of outsiders now. Although the campus is closed during the Corona period, the agricultural research of Bangladesh Agricultural University (BAU) was not stopped.
However, researchers are gaining problems due to the activities of the outsiders on the campus. Crowds of outsiders are gathering in the sunflower and mustard fields of the university's Department of Agriculture.
University teachers and researchers have complained that this is causing damage to crops as well as disrupting research.
Outsiders are seen riding motorbikes individually and in groups on various internal roads of the university. Handling outsiders during the holidays is a real challenge for the university security personnel.
As a result, besides the loss of beauty of the university, insecurity is increasing here. Outsiders who come to visit are damaging the research crops mainly. For this, university researchers got into trouble in conducting the research.
According to university sources, the body of a man who was stabbed to death was recovered from the university premises during the coronation period. Earlier, a student named Sajjad Pranta of the Veterinary Faculty of the university broke his leg after being hit by a motorcycle of an outsider.
Shahinur Islam, a security guard at the university said, the influx of foreigners was increasing during the holidays. It is becoming harder and harder to stop them entering on the campus. When we forbid them, many times they get involved in debates with us without listening.
Assistant Professor of Agricultural Extension Education of the University, Masud Rana said foreign visitors were entering research plots and protected areas at different times.
Many times they are disrupting normal research activities by damaging the flowers, fruits, and trees of the crop fields. Controlling external visitors is essential to maintain a healthy environment for teaching and research at the university.
University Proctor Professor Mohammad Mahir Uddin said efforts to control outsiders continue. Necessary steps have been taken to run mobile courts to prevent chaos. We will also take various steps in this regard through coordination with all concerned related to the security of the university soon.
BAU/Atikur Rahman/Mahfuz