JnU gets two PCR machines
JnU Correspondent || risingbd.com
Published: 12:05, 22 April 2021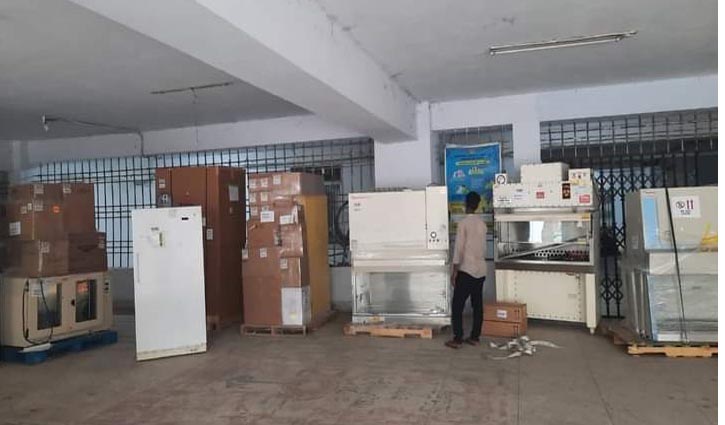 Jagannath University (JnU) has received modern research equipment worth around BDT 3 crore including two PCR machines.
As the only university in South Asia and Asia to receive the Instrumental Access Award-2020, Seeding Lab has sent two PCR machines and high quality lab equipment for the development of education and research at the university.
Jagannath University acting Vice-chancellor Professor D. Mostafa Kamal confirmed that the equipment arrived at the university on Sunday. After announcing the award, these lab materials arrived from Boston, USA.
According to university sources, the Department of Genetic Engineering and Biotechnology of Jagannath University received the Instrumental Access Award 2020 as the only university in Asia.
Jagannath University has received this award for the first time from Bangladesh. The award was announced on May 26 last year, according to a press release published on the website of the Seeding Lab.
The program provides low-cost, high-quality scientific equipment for education and research to young scientists at universities in lower and middle-class countries.
In this regard, the head of the Department of Genetic Engineering and Biotechnology Dilara Islam Sharif said, 'A total of 18 universities from 10 countries won the award last year. We received the award as the first university in Bangladesh. With the research tools we have received, we will be able to create a high-quality lab. Which is very important for biotechnological research.
These equipment include 2 PCR machines, laminar flow, minus 20-degree refrigerator and about 94 advanced research equipment.'
Asked if the corona test can be done on these PCR machines, he said, 'There is still some equipment left for the corona test. However, we do not have the kind of disinfection lab environment that is needed for the corona test. We can do that if we create that environment. The country currently has adequate corona test centers. We want to research coronary variants, as well as work on how to make vaccines to prevent them.'

JnU/Showdip/Mahfuz