Shuvradeb Halder floats new organization-MedLesson
Srishti Sarkar || risingbd.com
Published: 13:43, 21 May 2021 Update: 13:43, 21 May 2021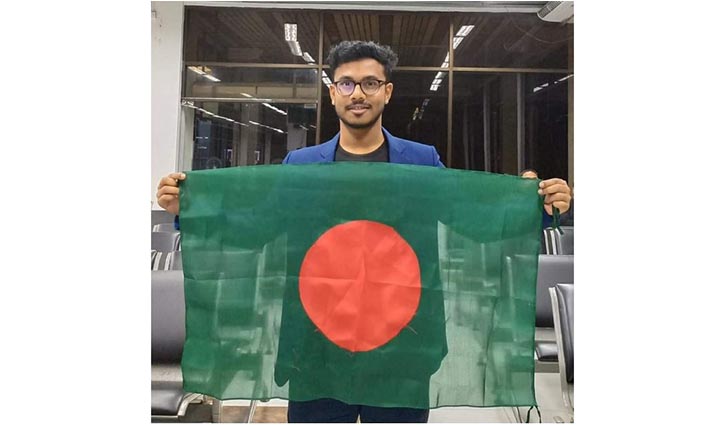 Shuvradeb Halder
Shuvradeb Halder, a much known rising multi-sectoral activist, has started a new organization-MedLesson-with a view of 'No More Deaths, Before The Doctor Arrives'.
Shuvradeb Halder is a creative writer, social activist, speaker, entrepreneur and involved with humanitarian activities.
He was born in Pirojpur. He was a student at Notre Dame College. Now, he is studying MBBS at Popular Medical College, Dhaka.
He likes to motivate people so that they don't get frustrated.
He promotes good health, peace and leadership.
In 2020, Global Law Thinkers Society awarded people from 100 countries worldwide on different sectors. Shuvradeb Halder, from Bangladesh, achieved 'Award of Excellence on Health'.
Global Law Thinkers Society also selected him as "General Media Leader" for their central board.
In 2019, he achieved 'International Delegate Award', from Global Youth Flash 2020 Pokhara, Nepal competing with sharp delegates from all the SAARC countries. They selected him as an ambassador of International Youth Policy Conference, 2019.
Shuvradeb Halder is now investing all his love, passion and dream for 'MedLesson'.
MedLesson is moving ahead with his motto, 'Learn and spread your knowledge'. Now, he is working as a CEO and founder of MedLesson. He dreams to bridge students from all sectors in this platform to enhance and collaborate intelligent minds, as well as create opportunity for each and every student for a better life!
MedLesson is a non-profit, non-political, educational and voluntary social organisation.
It is an online platform where all students can present their talents. This platform works for creating public awareness and it provides mass education from where everybody can learn a lot of things from different areas and thus enrich themselves. Besides, they can build themselves as a creative human being.
Mission of MedLesson is educating mass people about common health issues so that they are not deprived of basic health knowledge.
MedLesson has started 1) 'Anwesha'- Dosh Takay Dosher Seba and 2 Cybertech Coding World.
Annwesha is a charity sub organisation working towards disaster management, education and food for the underprivileged.
Cybertech Coding World is working for personal technological skill development and 'Cyber Security' for implementing rights of victims among the common people.
'No More Death before the Doctor Arrives!'- is one of the main vision of MedLesson. Providing basic health education is the aim, for which MedLesson is working. In this project, people of all socio economic background will be provided with basic knowledge and trained up about life saving emergency procedures in order to minimise such deaths to zero.
This organisation provides constant motivation to encourage good health, peace, healthy communication, efficiency and leadership of students by eliminating all hopelessness. Thus we all look forward to building a great nation and an outstanding world together in future.
Shuvradeb Halder dreams big with his bright eyes to build the society, country and a wonderful world in future! We all pray for his well being and success, and we dream to work together far ahead, to build a wonderful world that he dreams of!
The writer is studying MBBS at Popular Medical College, Dhaka.
Dhaka/Mukul