Dr. Thilsted awarded World Food Prize 2021
NSTU Correspondent || risingbd.com
Published: 17:46, 31 May 2021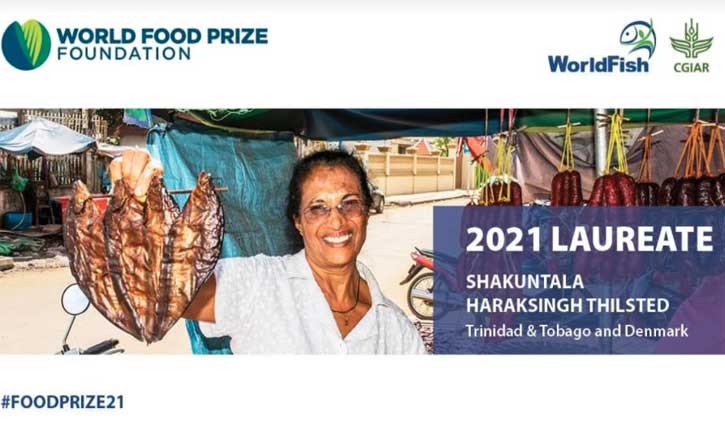 Dr. Shakuntala Haraksingh Thilsted got World Food Prize 2021from World Food Foundation. The prize is known as the "Nobel Prize for Food and Agriculture".
The award was announced in a recent virtual event when Barbara Stinson, President of the World Food Prize Foundation announced the award. Among others, the US Secretary of State Antony Blinken, and the Secretary of Agriculture Thomas Vilsack graced the occasion.
This honor is the recognition of Dr. Shakuntala's long journey towards making a significant contribution to the transformation of aquatic food systems into a holistic and sustainable approach that would ensure nutrition and a healthy planet.
Dr. Thilsted is credited with developing the pond polyculture system in a sustainable way of farming small fish and large carps together in homestead ponds, water bodies and rice fields.
She focused the research activities on small fishes as these not only provide protein and amino acids, they are a rich source of vitamin A, vitamin 12, and essential micronutrients, like iron, zinc, and her 20 years of consistent untiring research and development efforts have brought changes in peoples' mindset on aquatic farming practices in Bangladesh.
The technologies developed in Bangladesh has later been disseminated to Cambodia, India, Nepal, and Myanmar in Asia and Zambia and Malawi in Africa.
Dr. Thilsted started her research in Bangladesh since 1996 from Bangladesh Agricultural University (BAU) at the BAU Fisheries Field Laboratory. The activities was going on by training and workshops on Mola-based technologies like mola-carp polyculture, mola-shrimp-carp, rice-fish farming etc.
The technologies spread all over in Bangladesh and mola and SIS became famous for their high nutritional values. The use of fish poison to kill the SIS in ponds was officially stopped and mola is now available in all open markets and supermarkets.
Besides, new concepts introduced on various aspects of Mola and SIS farming with carps, tilapia and post-harvest processing, nutritional values, cooking and serving the fish-based products to the women and children.
World Fish Bangladesh took nutrient-rich Mola-SIS program through USAID's AIN project. CISSA and IFAD took projects to promote Mola/SIS technologies to the North Bengal and Northeast Haor regions.
Through IFAD-funded HLIP, CALIP, and JICA funded project Mola in ponds and in the beels, haors are found promising. Mola multiplies manifolds when stocked from ponds to open waters and helps enhance productivity and overall biodiversity.
The dissemination Mola-Carp in hundreds and thousands of ponds are scaling rapidly in North Bengal with support from the Melinda Gates Foundation-funded IDEA project of WorldFish.
About this achievement, Dr. Shakuntala Thilsted said, "I am truly honored to receive this award. I feel humbled to be placed in such distinguished ranks of past laureates. As a scientist, I feel this award is an important recognition of the essential but often overlooked role of fish and aquatic food systems in agricultural research for development."
NSTU/Mahfuz/Nasim