NNO encourages youths to read newspapers
NSTU Correspondent || risingbd.com
Published: 17:57, 10 June 2021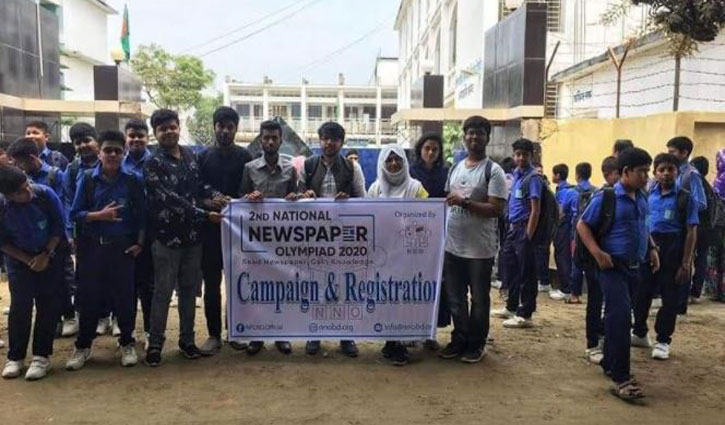 The world is getting competitive day by day. In this competitive world, it is essential to be updated with latest knowledge and the easiest way to become updated is reading newspapers.
In this perspective, the National Newspaper Olympiad (NNO), a youth organisation started its journey in October 20 of 2018 with the motto "Read newspaper, gain knowledge". They aim to encourage youth to read newspapers for gathering knowledge and changes people's view of reading newspapers.
Ahsanul Mahbub Labby, founder and President of NNO lead the activities of NNO. The activities of NNO are going on with the co-ordination of 3000 team members and coordinators from 8 divisions of Bangladesh. They are working together divided into groups: academic team, research team, news and content creating team. They are connected with more than 11 thousand students throughout the country.
They arranged Newspaper Olympiad season 1 in 2020 and Newspaper Olympiad season 2 in 2021 to find out talents. In the 1st Season of the Newspaper Olympiad, there were many sessions including written exams related to newspapers, painting competitions, exhibitions and about 21,000 people registered and 11,500 participants attended the examination.
The 2nd session of Newspaper Olympiad will be held online on the 25th of June, 2021 and the selection of this season has already been completed where more than 50,000 participants have participated.
NNO arranged workshop on Media & Journalism is the day-long workshop, arranged by NN throughout the country after the success of the first newspaper olympiad. The workshop including sessions on Journalism, Public Speaking and Anchoring, Communication skill development, Leadership, Feature writing, Open Quiz etc.
About the future planning, Ahsanul Mahbub Labby, founder and President of NNO said, 'NNO is working with newspapers and journalism and will turn newspaper reading into a movement of knowledge for the youth. NNO is working for giving the newspaper reading a significant meaning. The youth network is creating awareness about the importance of reading newspapers among all ages of people.'
NSTU/Fahim/Mahfuz