A tour to Jabbar Nagar
Khatun-A-Jannat Asha || risingbd.com
Published: 20:17, 17 July 2021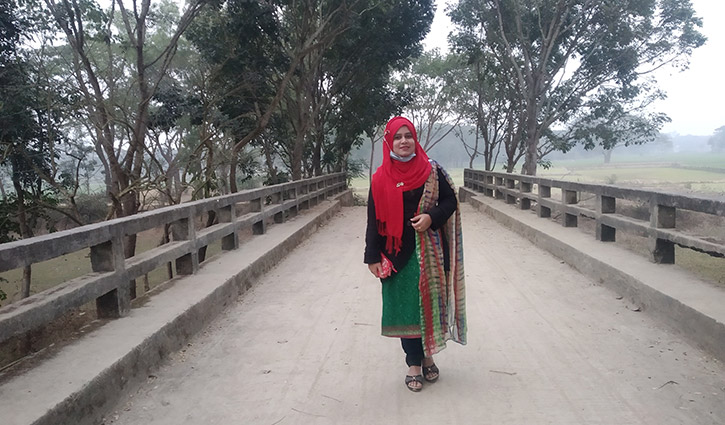 After hearing the name- 'Jabbar Nagar'- maybe you can think of it as a city, but it is a village surrounded by trees and natural resources. Due to its historical value combined with the unfeigned rural nature, it has been known as one of the most important places in Mymensingh district for many years, where visitors from different parts of the country visit frequently.
The way a spark causes a terrible wildfire, similarly a wildfire was created on February 21, 1952 through a massive mass movement demanding that Bangla will be recognized as the state language.
In exchange for the sacrifices of some great personalities at that lofty wildfire, we got the right to speak in our own language and our Bengali language received international recognition.
We remember those great people with respect and we want to hold their memory in our hearts till death. We are proud that such a self-sacrificing great personality was born in our district. He was language hero Abdul Jabbar, who was shot dead on February 21, 1952 in a procession of students demanding 'Rashtra Bhasha Bangla Chai'.
Language Martyr Abdul Jabbar was born on 10 October 1919 in Panchua village of Raona union in Gafargaon upazila of Mymensingh district. The name of the village had been changed to pay homage to the memory of Shaheed Jabbar at a meeting of the local government department on March 25, 2007 with the aim of spreading respect for the language martyrs and the Bengali language consciousness and history among the new generation.
Instead of Panchua, it was renamed Jabbar Nagar. Bahasa Shaheed Abdul Jabbar Library and Memorial Museum were also built in this village. It was built under the supervision of LGED at a cost of Tk 62 lakh 90 thousand. It was inaugurated on 19 February 2008.
Thousands of people come to visit this museum every year on 21st February and to know about the birthplace and museum of language martyr Abdul Jabbar and various discussions and cultural programs are organized here in memory of martyr Jabbar.
These programs continue for several days in a row. On the first day, prayer is arranged to seek forgiveness of the soul of the martyr and detailed discussion is held also about the biography of Shahid Abdul Jabber.
On the second day, cultural programs with different types of dance and songs are organized and on the 3rd day, various sports are held, and reading books sessions written about language martyr are organized. On this occasion, many people from different districts of Bangladesh and even from the neighboring country India assemble here.
The tour to Jabbar Nagar
The distance from the center of Gafargaon municipality to Panchua Bazar is about 5-6 km where CNG /rickshaw/bus/autorickshaw can be used to reach. The main gate of Jabbar Nagar can be seen from Panchua Bazar, from where the Bahasa Shaheed Abdul Jabbar Road begins. You need to go 3km further along this road if you want to visit the 'Language Martyr Abdul Jabbar Library and Memorial Museum' established in the courtyard of Shaheed Jabbar's house.
At the beginning of Jabbar Road, there is a large gate with a large inscription 'Bahasa Shaheed Abdul Jabbar Nagar' on the top, and on one side of the gate there is a portrait of the martyr Jabbar and on the other side there is a brief introduction about him.
It is certain that after entering this road, you will fall in love with nature while traveling all the way to reach his house. Such a deserted rural nature is no longer seen in this modern age, so Jabbar Nagar will give you the feeling of a real quiet the dense village, where you may want to get lost for a while.
Greenfields can be seen in the distance on both sides of the road, and various trees are lined up. The melodious voices of familiar and unfamiliar birds will sometimes float from the quiet nature, and the odorous air of rural nature will remind the body of a touch of serenity.
Along this path, you will reach the premises of 'Bahasa Shaheed Abdul Jabbar Library and Memorial Museum' with a fresh heart.
At the beginning of the premises there is a Shaheed Minar built-in memory of the language martyrs, and then you will see the 'Language Soldier Shaheed Abdul Jabbar Government Primary School', and the 'Library and Memorial Museum' building with an area of about 1,460 square feet. The main attraction of this place is the library and museum building.
The museum house has the a rare photograph of Abdul Jabbar and the library of memoirs contains books on the history of Bangladesh, freedom movement, philosophy, literature, religion, poetry, novels, and short stories as well as biographies of famous people. The total number of books in this library is 4,137.
With such a rich library within the endless open nature of the village, any book lover can spend hours after hours effortlessly! And he/she can come back to his home with a calm mind.
The library is closed on Fridays and Saturdays. The remaining five days are open from 9am to 5pm.
Those who have sacrificed their lives for our country and language deserve all the respect, so the places they lived have great significance. It is our responsibility to remind the young generation of this country in particular that our country and language are the results of many sacrifices.
It is our responsibility to protect its glory. Different educational institutions should therefore take students on educational tours to these historical places and sow the seeds of patriotism in their young minds.
Khatun-A-Jannat Asha is a media activist.
 Mymensingh/Cynthia/Mahfuz