Preetylata shares her story of becoming an entrepreneur
Ariful Islam Sabbir  || risingbd.com
Published: 12:47, 27 July 2021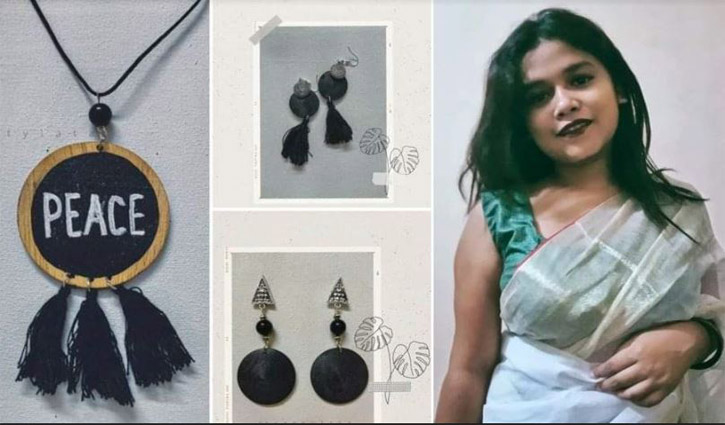 Ishrat Zahan Preetylata is a second-year student of Home Economics College. She used to maintain her regular expenses by doing tuition. Through this, she helped her family. But when the epidemic of the coronavirus began to spread last year, schools and colleges got closed. This stopped her path of that little income. But it didn't stop her spirit. She planned to become an entrepreneur.
Excluding the thought of tuition completely, she took advantage of the opportunity from lockdown doing her childhood hobby such as painting and crafting. She started to make handmade jewelry. She started to paint on a regular basis. She chose the online platform for selling her products. After opening the Facebook page named "Preetylata Artistry", it started to get some responses from people. She started to get more orders which inspired her to carry on.
Preetylata said, "I have been very interested in arts and handicrafts since childhood. I used to go to art exhibitions secretly while I was in school. The artwork hanging on the walls was very attractive. I learned about arts and crafts from various websites. I try to paint on the woods and clothes with attention."
Friends and relatives appreciated her when she posted her work on Facebook, some of them were also interested in buying jewelry and paintings. From there, the plan to make and sell handmade jewelry started.
When she was asked how much capital she had in the beginning, Preetylata said, "I didn't have that much capital. I got Tk 800 for a scrapbook as my first income. In addition to handmade jewelry, I also gave trial posts for selling paintings. From then on, orders for paintings kept coming. I started making metal jewelry and got a very positive response from people since I make an effort to maintain my individuality.
Preetylata wants to give credit to the social media platform behind her success. In her words, "I get my orders from my account, Facebook page, Instagram account. Besides, my friends are also very cooperative, they ordered it in the beginning and helped me to accumulate portfolio for such work. I never wanted to get an exaggerated response beyond the quality of my work, nor did I try to boost the post. So the response on the page is less than others."
Preetylata said, "The hobby that gives me peace of mind, even though I have been working for a long time and I am not feeling bored, should be taken as a profession." In her words, "If hobby is my profession, I can work with many kinds of ideas in my own interest. I don't have to force anything. That's why I got the response of the people and getting orders regularly".
When asked about the challenges she had to face in becoming an entrepreneur, Preetylata said, "Initially, long-distance delivery was a bit of a hassle, the income was very low. It would have taken a lot of time to deliver on your own, maybe half the money for the product would have gone to the rickshaw, bus rent! This challenge has been overcome after coming to the delivery service. I used to get very few orders, I didn't have a good phone. So, I couldn't take good pictures. As a result, the quality of work could not be understood. Now is the era of visual presentation, if it is not good to see, why people will be interested?".
When she was asked about her future plans, Preetylata said, "Everything I make or whatever I sell, is made by my own hand. But it is not possible to go far by working alone. I'm more inclined to be a designer. My wish is that I will establish a quality art brand. My desire is to train the disadvantaged children at the grassroots level and give them employment opportunities in such jobs."
She said, "I will give designs and instructions. And they will apply with their skills. Such as hand block clothing, pottery painting of indoor plants, needlework. And I personally want to create patterns or designs with bed sheets, cushion covers, table mats, wallpapers (wall stickers that look like the whole wall has been painted or the texture of a product will be designed.) Nowadays I'm learning how to shift analog artwork to digital platform and make it applicable to any kind of texture."
Dhaka/AI