A poem on Bangabandhu
Gazi Abdulla-hel Baqui || risingbd.com
Published: 14:48, 14 March 2022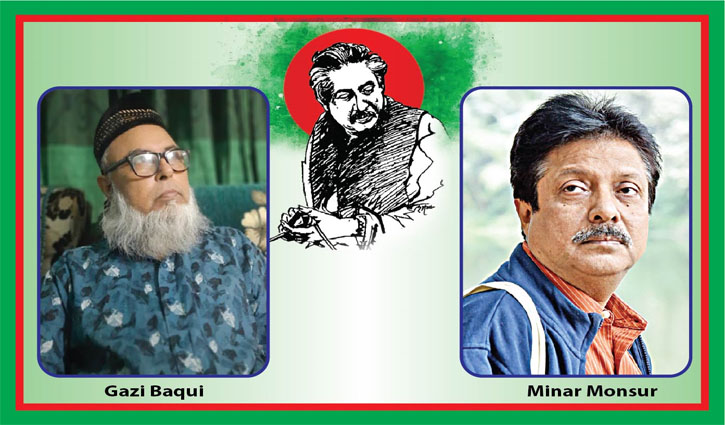 Original: Minar Monsur
Translation: Gazi Abdulla-hel Baqui
[Minar Monsur, born in Chattogram and had his higher education in Bangla language and literature from the University of Chattogram, is a modern poet, writer, researcher and editor. As a composer of verses, he has created his own language which reflects his individual identity in the world of Bangla poetry. His books of poems, the collections of research articles and also the books edited by him have already attracted the attention of the readers. He is now acting as the Director of Jatio Granthekendra (National Book Centre, Dhaka). The present poem is an excellent creation on Bangabandhu, the Father of the Nation.]
You are the Poet of Poets
So many poets are there in your land of Bangla
So many poems they compose—how varied their language and allusions are!
Such quality the soil possesses that here all are poets;
If you do not believe, ask the tree. In this country
Trees write poems in the language of seeds; fish writes
Water-verses—its language is beyond others' grasp.
The naked ascetic who is luminous still today, illumining the court of Mourya Emperor, was also a great poet of this Bangla.
Still impassable hill invokes the eternal verses of that Buddhist monk
From Bikrampur with mendicant's bowl in hand,
Who runs non-stop, barefooted defying the barrier of time.
Pocket is empty and heart is broken—touchstones in hands
Lalon, Hason and Rabi—let them remain immersed in their own realms
Let Jibonananda gain a moment's peace in the grey monastery of Bhadrabahu and Nirmala!
Behold! What charming poems Spring, the king of season, keeps on
Penning in solitude; what hues and elegance the verses spill out!
Their mysterious glow is fast spreading among trees,
Birds and flowers! In addition, see the sky of dawn absorbed in meditation
The fantastic aroma of its verses is whizzed around by the wind
Yet, nowhere is sounded any clamour.
Thirteen hundred rivers are composing countless verses ceaselessly
Since their birth; they are the original poets of this Bangla!
As you listen, you start laughing—must you laugh!
You caused uproar around the world in your Fifties—
What might happen after century is beyond surmise! Yet, river is nonchalant
The vast expanse of crop-fields of Bangla appears like a poetry-pad
That abounds with poem-harvest of varied hues. Moreover, that very man
Whom you address as a rustic tiller—his noble poetic works
Are older than Charyapada. The producer of the fine cloth that made
Euphoria flow in the court of Emperor Chandragupta
Was also an unknown poet of Bangla.
Picture, alas, only picture! Long sighs of deprivation
Only exhaling the fleeting grace! Would the unflagging assiduity of
Water-air-soil, the counting myriads of hours in futile waits
For thousand years, tears of so many mothers and
Shedding of blood of so many heroes, go fruitless?—
Distressed Rabindranath asks furiously.
At the moment in tremendous roaring of sea—
The miraculous bold move of a raised finger
Produced that immortal poem and
After the meditation of an endless night,
The sunny day heralds in reverence:
You are the Poet of Poets—Father of Bangla—I salute you.
The translator is a poet, researcher, translator and an academician.
Dhaka/Mukul