Translation of Five Sonnets
Gazi Abdulla-hel Baqui || risingbd.com
Published: 13:03, 11 April 2022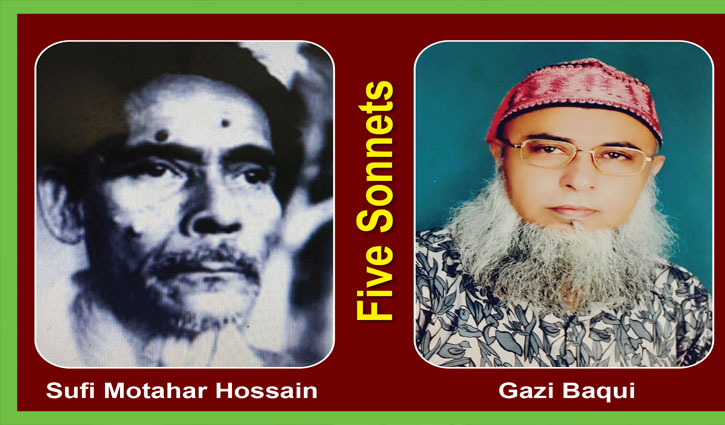 Original: Sufi Motahar Hossain
Translation: Gazi Abdulla-hel Baqui
(Poet Sufi Motahar Hossain, a renowned literary star in the firmament of Bangla literature, came in close contact with Kazi Nazrul Islam, the National Poet of Bangladesh and poet Mohitlal Mozumder and became inspired to compose poetic verses. He enriched Bangla literature with three collections of sonnets, paved with wonderful and excellent artistic literary merit. The poet received several honours including Bangla Academy Award, Presidency and Adamjee Awards. Born in Faridpur in 1907, he died in 1975. Once the poet was attacked with a serious disease—a kind of wound that spread all over his body, even brain. He underwent treatment of Dr Bidhan Chandra Roy and Dr. Nil Ratan Sarker, but to no effect. At last, his whole body sank down. Then he went to the spiritual leader Pir Arshad Ali Shah at Taltala and got cured miraculously. He then grew curious about the mystic life of the Pir Shaheb and as a result he incurred displeasure of Pir Shaheb and lost attraction for domestic life. He then wandered about here and there and visited Khankas of different Pirs and mystic guides. After that he entered into the teaching profession and served as an Assistant Headmaster in a school. At last he suffered paralysis and breathed his last.)
Storm
On some Chaitra evenings, storm starts at irregular intervals
All trimmings of nature get fallen asunder by the launching of
The upheaval of north-wind, all adornments get disarranged,
Leaves, creepers, fruits, flowers and shoots reel down helplessly
Observing the incessant swaying of upward branches and offshoots
The childhood memory of sighting the storm-rolling and water-surge
Suddenly occurs to mind continuously in pale darkness
All on a sudden the dusty storm of lost bygone days comes to view.
Oh, human heart, whatever you have seen with your eyes
All remain mingled in memory-laden dust in grass
In flowers, lotuses, leaves, paths, light and darkness
The identity of the ever known world is dormant all around.
Only during the blowing of gust of gale these can be suddenly known
Only in sorrows and happiness, hope and fear overwhelm him.
Bird
Birds in flights are chanting in flower bowers,
Red, blue, tiny and big, white, black, known and unknown
Crowds of so many birds do not pay heed to prohibition,
Every moment they noisily quaver cooing and warbling in songs,
Red lips of yellow and green birds are pointed towards the sun
Their glowing eyes in blue dreams of the sky are regardless of sorrows
Those spirits of ambrosia of free delight, clamorous of ceaseless chirping
Who knows what message they have brought in unworldly life's rhythm!
The heavy pouring of birds' notes has been heard in shades of woods
In tranquil morns, in twilight and in the solitary hours of the noon,
The sweet melody of birds has broken slumber in the late hours of the night.
That sweet tune is the invoking of eternity, of boundless space.
The loss and profit of the world are proved in the false outpourings
In certain moment, truth is sought in heaven, doubtful is the past.
Bird (Two)
Songs and whistles of more birds are heard in gardens.
On days and nights, whenever and wherever they stay,
They keep on singing at intervals as watchers in quite happiness.
On the south sea shore as birds awaken, instantly their twit-call
Returning to millions of birds' voice in the woods in the north,
Gets resounded across the remote unknown far off woodlands
The music has been rung like spells, uniting with the bird-call still left
In many more north countries! How shall I stay at a place so far off?
More birds that are long-voiced are engrossed in meditation by days
Practice craving for incorporeal beauty devotedly in deep melody
They sing elevated songs full of ever joyous sentiment all day long.
On the earth, the deathless singing birds voice that endlessness is
Not here, but the full ultimate result of life lies somewhere else
Through songs aloft, also they invite humans towards truth.
Paradise
Have you ever seen Laily, where has she gone?
For a moment I have seen the flush of lustre in her eyes
That lustre enters into heart, that beam is cast jewel
That lustre enkindles into life the light of love instantly.
Have you ever seen Shirin? You, all listen
The very tune of her song-stirring tavern is heard
In that song amorous act is inspired day and night
That song pronounces, except love nothing is truth.
If you can you must build up paradise of love
Based on perennial dreams of Laily and Shirin
There call up all to pronounce the eternal message
Without love no truth exists, immortality lies in love cultivation
Eternal love is like eternal spring, the real perception—
Practice humanity in love arduously and tie it up in love-knot.
Word
In ages so many religious and devotional books and theologies
Were revealed to the world from high above—images of Mercy!
Within this, on new big stages poets are often playing dramatic roles
Of new king-queen sports, have also bedecked civilization and fests.
You have achieved a great glory like Egyptian Pyramid
Also built up imaginary abodes in the dream of new Art
From the peak of Rome have welcomed the world
And have written unique messages on the forehead of Greece.
O Creator, Your glorious deeds are your domains, kings and queens
That turn up by turns in Your theater houses wearing newer bearing,
Drinking Your ambrosia, eulogizing You to all directions
Exhibit your glories, carrying Your great messages.
Amidst Your ceremonies You remain silent and quiet
I do not know why I was given birth to in Your heavenly abode.

Dr. Gazi Abdulla-hel Baqui, a poet, writer, translator and university professor, has already authored twenty books and a great number of poems, (including a large number of rubaiyat and haiku), articles and stories. He has been awarded nationally and internationally for his poetic accomplishments for several times. He writes both in Bangla and English.
Dhaka/Mukul