Pathetic love story between an aged man and a young girl
Nitul Jannat Niti || risingbd.com
Published: 12:59, 7 May 2022 Update: 13:05, 7 May 2022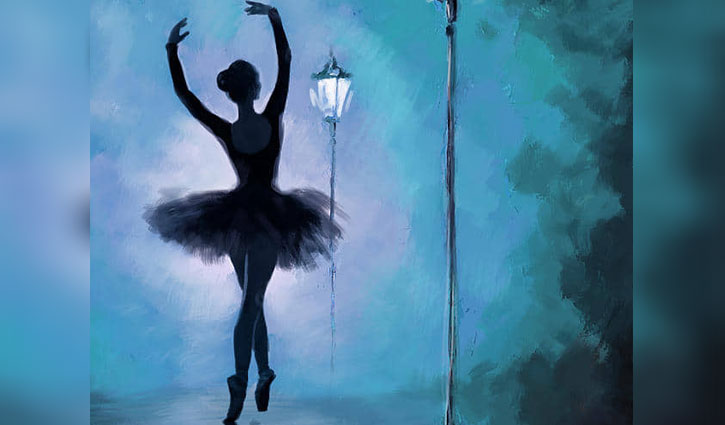 Mr. Brad mumbled, "I never knew spring would come so soon."
He already started to miss those pretty snowfalls. This year, they haven't made any snowman. He and his dog, lavender. Lavender loves to play in the snow. Anyone will say, this chihuahua has some adorable things to notice which make him such a great companion. Mr. Brad wakes up at 7 am. He things his alarm clock is the most irritating thing in the earth. But, this is a temporary feeling. He brushes his teeth, he cooks his own meal and reads the newspaper at the same time. Trust me, all these disciplining activities often make me thing, "I wish I were so punctual like Mr. Brad!"
Yes, we all long to be punctual and steady in our life, but less of us only can do that. That is why, I consider it as a tough task. But, as I'm writing a story here, so I have to make some changes, bring some twists. Because, it's a story of some illogical, forbidden desires that some of us don't even want to imagine. And, my imaginary kingdom is hilariously preternatural.
Mr. Brad spent his forty years without getting married. You must be wondering the reason. Well, let's bring a short story here.
Brad fell in love when he was only eighteen, just got over the poverty. One morning, he saw the beautiful girl picking up some fresh lemons from their garden. He thought, the little girl must be used some rose petals to make her cheeks rosy, her red ribbon was just like a butterfly, and her white outfit literally made her look like a daisy. And then, every morning Brad started to stand there and continued to see her. They eventually fell in love. The time unbelievably turned beautiful. The first kiss, dancing together near a beach at midnights, playing ukulele are still included in Brad's memory. And, after passing one year, Brad had to lose her due to stage four cancer. Poor Lucia! She never knew she left a boy anguished and devastated for the rest of his life.
This is the short and pathetic love story of Brad, which never let him get married. Lucia! It means light, and this person has lost his light with her.
Danica is a young, beautiful lassie who lives in Valencia. This spanish girl loves ballet more than her school. She wants to be a ballerina. She believes, ballet is an art that can be the loftiest, the most moving, the most beautiful of the arts, because it is not mere translation or abstraction from life, it is life itself. She is just seventeen years old and still not found the life she desires yet. She is standing at a bus stop. In school, the teacher considers her as the most inattentive, careless and unmindful student. She never scores great, not even fair. Her parents are about to getting a divorce. They literally pay vulnerable attention to this poor girl. Danica tried to find her happiness in ballet. She also loves flamenco. Every day, she sees a man, wearing black hat, grey overcoat, combat boots with sunglasses. The man wait for bus silently. There is also an old lady who visits to her grandkids every day. Danica meets many people in her life. And, she feels like she knows them all yet nobody knows her. The bus came. Everybody is getting on the bus silently. It's raining outside. Danica and Brad, they both wonders, "why does it rain in spring?"
Well, it's also raining here at this midnight when I'm listening to some beautiful mozart music, drinking my favourite whiskey with soda and writing this story.
A ballet show named Don Quijote - Ballet de Catalunya nowadays lacks audience for their performances. Danica is sitting alone wearing a pink ballet dress. She tried her best tonight, but these unsold tickets tell another story. Danica screamed, "Oh, what a hapless, unlucky girl I am!"
A deep voice came from behind, "You did well, little girl. I never saw dancing anyone who is full of lives."
Danica smiled. She knows him. The man, who waits for his bus at the bus stop every day. This is the man who never noticed this little girl before. Danica said.
"I'm Danica."
Mr. Brad said, "Pardon?"
Danica whispered, "Danica! It means "The morning star". Then, she left that place.
Brad is looking her going away. He smiled bashfully, after so many years.
Danica's parents got divorced today. Danica is going to live with her aunt, Camilla, until she turns eighteen. They she can decide where to stay. She can live alone then. Danica has a weird dream about this. She wants to live near an ocean, in a woodhouse. She practiced her moves in ballet and flamenco both at afternoon. Then she started to get ready. She is going to meet someone. She is looking herself in the mirror and thinking, "How can I look so beautiful in a black dress? Is he also going to wear that grey overcoat with black hat tonight?"
Brad is sitting and looking at outside. A song is playing in the café. Danica came late. She smiled, and Brad knew probably he has seen the purest, sinless smile in his entire life. Did Lucia use to smile like this? Perhaps! Danica is looking like a fairy in this evening lights. He asked her, "I forgot your name. Can you remind me once again?"
Danica said, "If you ever forget my name again, I'll never forgive you."
Brad starts to laugh madly. This girl seems indecent and disobedient at this moment, but these attitudes suit her. Not everybody is meant to be punctual, like Brad. She is messy, she misbehaves sometimes. But somehow, somewhere, she is hiding her innocence under her smile, under her skin, under her curly and brownish hair, inside her deep blue eyes that often remind him a reflection of an ocean. Brad whispered, "Will you dance with me, young lady?"
The music is playing in a low volume. The lyrics of music says,
"Hiding from the rain and snow
Trying to forget, but I won't let go
Looking at a crowded street
Listening to my own heartbeat
So many people all around the world
Tell me, where do I find someone like you, girl?
Take me to your heart, take me to your soul
Give me your hand before I'm old
Show me what love is, haven't got a clue
Show me that wonders can be true."
While Brad is trying to fix his moves, Danica suddenly whispered in his ear, "My name is Danica. It means, the morning star!"
That night, they both danced, they walked together, they laughed, they kissed, they counted stars on rooftop. Brad is looking at Danica's innocent face. The face is full of light. "Dear Lucia, I hope you are happy for me. I found my light, I found you again. Lucia, I see you!"
Danica is kicked out from her aunt's house this morning. Camilla is literally furious to know her niece is seeing an aged man. She tried to stop her from going to that person, but nothing mattered.
Camilla screamed, "You must leave that imbecile old man!"
Danica politely said, "I won't!"
Camilla screamed again, "It wasn't a question young lady, it was an order. Don't you dare to forget that I'm your legal guardian for now."
Danica passed a short reply, "No, I won't leave him."
Camilla became shocked when she noticed that the most indecent girl of the planet is suddenly getting on her nerves by her deep silence. She kicked her out from her house. Danica took nothing excepts her ballet and flamenco dresses. After all, she has been chasing the life.
Brad hears a knock on the door. He opens it and suddenly feels the sweet pain in his mind, his whole body. This broke girl has nothing left excepts her angelic innocence. How can the whole world be so cruel to this girl? He welcomes her, "Hola, my ballerina!"
And, Danica's heart just melted. In her mind she was saying, "I forgive you, Camilla!"
At afternoon, Brad started to play his piano. Lavender was sitting on the floor. The window is open, Danica started to dance gracefully.
You must be wondering why I'm writing this kind of story. Some of you will consider is as pedophilic story between an aged man and a young girl, and some of you will mark it as some kind of intense love story between only two person. But, I swear, none of my story contain happy endings. Do you want to call me a sadist? Well, I don't mind.
Danica turned eighteen, like the spring suddenly came soon in a kingdom as Brad imagined last year. She is like a spring, some fresh daisy in a garden. Brad is afraid of this new story in his life now. He is moving towards to death slowly, when Danica is gathering life day by day. Coronary thrombosis, formation of a blood clot inside a blood vessel of the heart, enough to wipe a whole life with memories from someone's heart.
Brad already knows, how pathetic it is to see the loved one dies in arms. That one memory, always kept Lucia alive in Brad's senses. Maybe, he was finding Lucia into her ballerina for the entire time.
Two years passed in the blink of an eye. Danica is so busy to do her performances in different shows. She is being a master of flamenco and ballet. She always chased her life and seems like she finally got it. Last night, she did incredible job in her performance. She wakes up early in the morning by the sound of the alarm clock. She feels for a while That the alarm clock is the most irritating thing of the world. But she knew, this is a temporary feeling. She brushes her teeth, she cooks her own meal and reads the newspaper at the same time. There is two portraits hanging on the wall. One is Brad's, he is smiling there. And, another is Danica's, the beautiful ballerina with her moves. She looks at these photos. And trust me, she thinks, "I wish, you were here today with this morning star."
The writer is a masters student of English Literature at the Central Women's University (CWU).
Dhaka/NH/AI