The Padma Bridge
Gazi Abdulla-hel Baqui || risingbd.com
Published: 11:34, 8 June 2022 Update: 12:03, 8 June 2022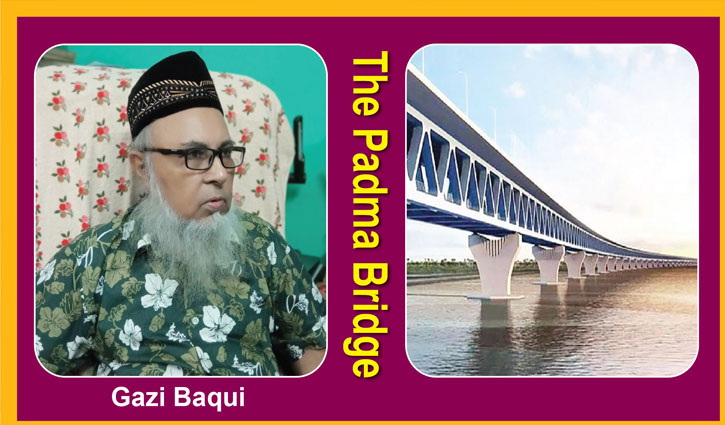 The Padma is a mighty river renowned in Bangladesh,
The legendry Hilsha-infested River is a boon for men.
As it grows furious, it erodes banks left and right,
Then it begets sorrows and hardship pretty often.
These days the River feels proud and flows on,
A massive multipurpose bridge towers on her chest.
The Bridge has already put on a grand gala countenance,
She thinks it a beauty sixty-feet top a bejeweled crest.
The Padma Bridge is the 25th longest in the world,
It grows out of courage and intellect of Sheikh Hasina.
The Bridge is a symbol of social, cultural and national link,
Thwarting all dramas, Hasina won with the help of China.
Padma Bridge is a dream long cherished by Bangladesh,
It is more than a bridge though inanimate, for the animate.
It will dispel fatigue, poverty, tears and life's long struggle,
It will surely fulfill so many goals that we are fortunate.
Bangabandhu's move of a finger gave life to a new nation,
That was a great victory that Bangladesh gained in1971.
After half a century, the second victory that is now a reality,
How the Father of the Nation's daughter gallantly won!
The rail-road Bridge will help the people in so many ways,
This pioneering act to boost the total progress all will trace.
The Bridge connects the noisy north to the pastoral south-west,
A new chapter is added to our history none can replace.
All movements will be quickened, resources will bring benefit,
The future fate of our dear land will mark it a benign gateway.
The generations surely enjoy what magic the Bridge will show,
Wait and see now, what the 6.15 km longest Bridge can pay?
The Bridgescape gives a sublime vista on the tumult Padma,
A glance at the billows surging on moonlight is recalled forever.
The new wonder will be shining with its soul-ravishing charm,
How the gap is bridged between this life and the life hereafter!
I am now standing on the life's bridge under the azure sky,
Is every human soul gazing at an imaginary future bridge?
Heart howls when I think evil-mongers' glances never blink!
I am now sure tradition will stand erect on such a bridge.
Dr. Gazi Abdulla-hel Baqui, a poet, writer, translator and university professor, has already authored twenty books and a great number of poems, (including a large number of rubaiyat and haiku), articles and stories. He has been awarded nationally and internationally for his poetic accomplishments for several times. He writes both in Bangla and English.

Dhaka/Mukul