Low lying areas of Barisal flooded
Published: 20:09, 23 October 2020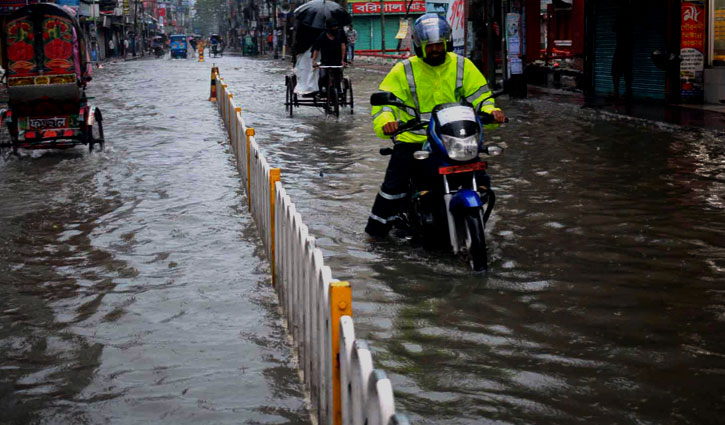 It has been raining cats and dogs for the last two days due to deep depression in the Bay of Bengal, causing low lying areas of Barisal flooded.
Anisur Rahman, senior observer of Barisal meteorological office, on Friday (October 23) said, "Barisal has recorded 175 mm of rainfall in the last 24 hours. Of this, 82 mm rainfall was recorded from 6:00 am to 9:00 am today."
He said, "It is raining due to deep depression in the Bay of Bengal. Besides, river water is increasing due to this deep depression."
Meanwhile, people in Sagardi, Rupatali, Palashpur, Balur Math Colony, KDC and Charerabari areas of Barisal city have been marooned since morning.
All-important roads of the city went under water. Especially Sadar Road, Kaunia, Hospital Road, Bhatikhana, Rasulpur roads of the city went under one to one and a half feet of water.
Anisuzzaman, executive engineer of Barisal City Corporation, told risingbd that the navigability of Kirtankhola has reduced, the canals and drains of the city have shrunk, causing to lose capacity. As a result, the city is being flooded due to heavy rains. City Corporation workers have been repairing the drain since morning. However, this problem has arisen due to the high water level in the river.
He further said, "Once, there were 24 canals in Barisal city. Now the canals are almost dead. Initiatives have been taken to restore and reform the cannals. To that end, ECNEC is awaiting approval of two projects worth Tk 3,500 crore. If the two projects are passed, it will be possible to solve this problem of the city dwellers permanently."

Barisal/Swapon/AKA