Finally the teacher of 80s gets cash assistance
Desk Report || risingbd.com
Published: 21:19, 16 April 2021 Update: 21:21, 16 April 2021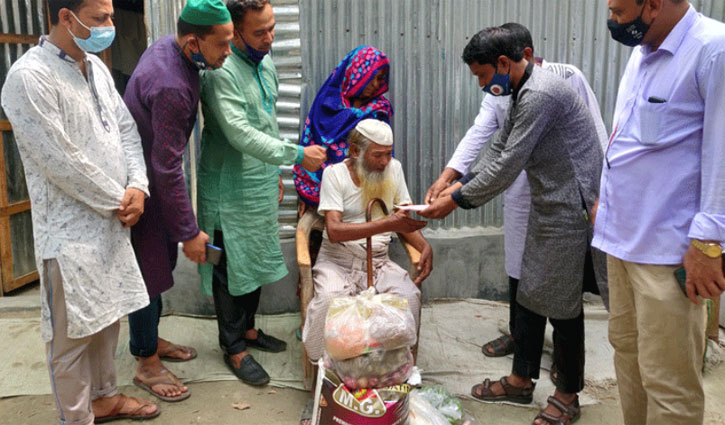 Mujibur Rahman, a destitute madrasa teacher, received cash and food assistance on Thursday (April 16).
Recently a report came to light that a teacher is passing his days in starvation during the ongoing Coronavirus pandemic. That old guy had served as a madrasa teacher in 1980. During his shining age in 80s he used to earn Tk300 per month.
Noticing the report, risingbd advisory editor Uday Hakim stretched his helping hand towards the veteran teacher. Following his direction, Uday Hakim sent local reporters to the residence of the teacher.
Besides, a reader of the portal sent Tk5000 for the needy madrasa teacher. Later, the aid was sent to Mujibur this noon. The teacher became emotional after receiving such instant assistance.
Uday Hakim said, a teacher is passing a miserable time today. The issue is really heartbreaking. Hearty people should came forward to help this teacher.
Mujibur Rahman started his teaching career in 1980 in a Dakhil Madrasa in Balivadrapur under Phulbari upazila in Dinajpur. He got retirement in 2014. After getting his pension money, he had to pay his bank loan. Ultimately, he became helpless in his old age.
If anyone wants to help the destitute teacher then, he/ she can send financial assistance through this number 01741-698433.
Moslem Uddin/Nasim