Huge gathering at Shimulia ghat, authority miking to leave area
Published: 10:15, 8 May 2021 Update: 10:20, 8 May 2021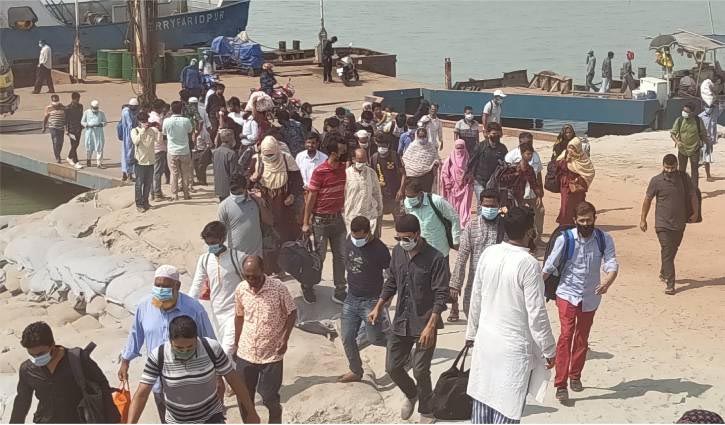 Bangladesh Inland Water Transport Corporation (BIWTC) has suspended ferry services on Banglabazar-Shimulia ferry route in day time from today (May 8) in a bid to prevent spread of coronavirus infection in the country.
During visit, it was seen the Shimulia terminal was teeming with homebound people ahead of Eid from Saturday morning. Thousands of people from the capital reached there to go to southern districts ignoring the lockdown. About 400 of transports were also seen waiting at the ferry terminal to cross the river.
BIWTC Ferry Ghat Authority is miking to leave the ghat area.
The matter has been confirmed by BIWTC Shimulia Ferry Ghat Assistant Manager (Commerce) Foysal Ahmed.
On Friday, passengers were seen crossing the Padma by ferry. Many ferries were forced to leave for the destinations without any vehicle due to the massive crowd of passengers.
He said the ministry informed us to suspend ferry service from Saturday. All ferries were anchored on Friday night.
Ratan/Mukul