Woman missing as a child finds her family after 25 years
News Desk || risingbd.com
Published: 22:02, 19 September 2021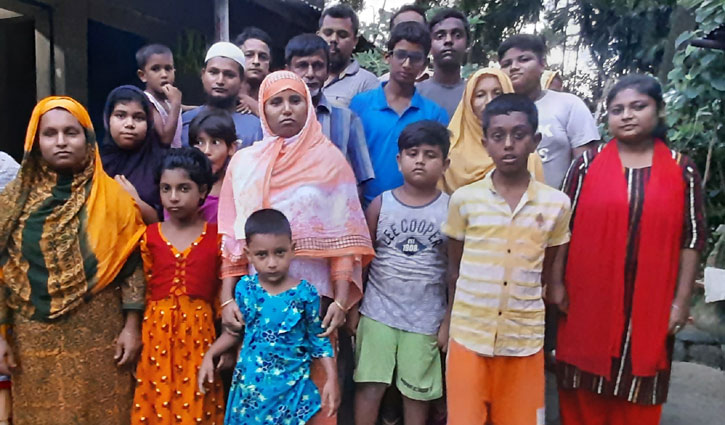 Akhi Noor has been seeking her family for long 25 years, ever since she went missing as a child in the capital. She has finally found them.
The woman, mother of a daughter and a son, united with her parents and other family members and returned to the village home after a private radio station broadcast her story.
The programme with the title 'Apon Thikana' went viral on social media, helping the family to find Akhi and reunite each other.
Akhi returned her village home of Maizbari under Gafargaon upazila in Mymensingh on Friday (September 16).
It was learned that Akhi went missing from Gulistan of the capital when she was six years old. The family members could not find her even after searching a lot. Since, 25 years have passed.
After a long time, all the members of the family were overjoyed to find Akhi. Neighbours are crowding the house to see her at a glance.
Manik Mia, Akhi's father, has two sons and as many daughters. He went to Dhaka in 1996 in search of work to earn livelihood. He lived there with his wife and children. One day, Manik Mia went out with his 6-year-old daughter Akhi.
Manik Mia went to work next after leaving Akhi to betel-leaf store at Gulistan. There he fell victim of snatchers. So, he could not return to his daughter on time. When he had returned, it was too late. He could not find Akhi there.
After searching a lot for Akhi, Manik Mia conducted frantic publicity through loudspeakers in Dhaka, advertisement in newspapers and filed general diary (GD) with concerned police station. Then 25 years have passed.
Akhi said, "I got on a bus crying a lot that day as if could not find my father. Seeing me crying, a man took me away. The man later dropped me off at a shelter home. From then on, a new life began. I grew up in the shelter house. One day, I got out of there and started working in a beauty parlor. Once, I met Masum Mollah of Ashulia thanks to mobile phone. Later I got married with him. I am currently living there with my husband. Now I am a mother of a son and a daughter.
She added, "I used to listen to FM radio on my mobile phone. It was there that I heard stories of various people who went missing on 'Apon Thikana' programme. I wish I could tell the story of my loss. And if my parents hear that, they look for me. So I applied for an interview on that occasion. I got a call after waiting for a long time. When my interview was published there later, it was shared a lot on Facebook. It was from that source that I finally found my family."
After a long time, when she found her parents and family members, she broke into tears. "I cannot not make you understand the feelings of finding my family again," Akhi said.
Manik Mia said, "I never imagined I would get my daughter back like this. The parents understand how difficult it is to lose a daughter; Those who have lost children, only they could feel the chest pain of it."
Akhi's husband Masum Mollah said, "I got married Akhi knowing everything from her. I tried a lot to find her family after marriage. That effort finally has been successful because of the mercy of Allah. I am very happy now."

Mymensingh/Milon/AKA