Helpless farmer crying as his 10000 watermelon plants uprooted
News Desk || risingbd.com
Published: 15:26, 17 January 2022
Every farmer sows dreams along with crops in the land. They try to grow plenteous crops to fulfill the food shortages in the country as we all know. How would they feel if someone shatters their dream before their eyes?
In an incident, the dream of a farmer named Delwar Hossain from Kalapara upazila of Patuakhali district was shattered when Monirul Islam, an engineer of the embankment protection projects under the Bangladesh Water Development Board (BWDB) uprooted about 10,000 watermelon plants of Hossain on Sunday (January 16). The victim farmer and locals made such allegations against the engineer.
According to local sources, Hossain has been cultivating various types of vegetables on the slopes of the flow-through dam for several years with the oral consent of the officials of the Bangladesh Forest Department and BWDB. He started cultivating watermelon there about two months ago. The officials used to visit the land ever since he planted the watermelon saplings.
On Saturday (January 15) afternoon, the BWDB engineer Monirul Islam uprooted Hossain's 10,000 cultivated watermelon plants. His action caused the farmer loss of an estimated Tk2,50,000.
"I gave Tk.10,000 to a duty officer of the forest department named Mosharraf. But today Monirul Islam uprooted my watermelon plants without prior notice. I cried and begged down on my knees to him but he didn't listen to a word I said. Had I been given a month's time, such loss would not have happened to me. He is currently threatening to sue me." alleged the farmer while crying.
Hossain's wife Salma Begum said, "I have also worked here with my husband and planted saplings. I took a loan from three banks as we had no money. How would I repay this money now? I want compensation or else I have no choice but to die."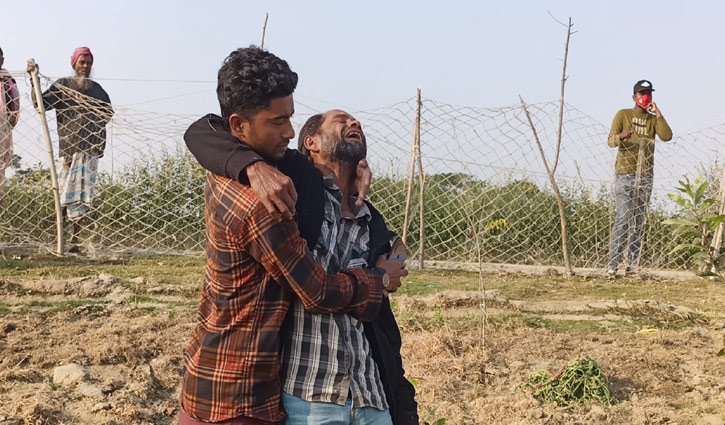 Hossain's neighbor Nasir Mridha said, "All the villagers said no to the engineer's activity. We requested for at least a month's time but they did not listen to anyone. They uprooted all the plants."
When asked about the matter of taking money from the farmer, the Gangamati Range officer Mosharraf said, "I did not take any money from anyone. It's all a lie. The farmer planted those plants on the slopes of the flow-through dam despite warnings issued against him. The BWDB engineer uprooted the plants as the grass gets rotten over there. I didn't uproot the plants."
In this regard, the BWDB engineer of the embankment protection projects Monirul Islam said, "I didn't notice the watermelon plants there before. The grass that was planted on the land to protect the embankment was removed, so I left some spaces unused there and uprooted the remaining watermelon plants."
Arif Hossain, executive engineer of BWDB in Kalapara, said, "The work under the project is now going on at that land. We will start our work there in a few days. However, I haven't heard anything about it yet. I will look into this matter."
Kalapara Upazila Executive Officer (UNO) Abu Hasnat Mohammad Shahidul Haque said, "I was just informed about the matter. I will look into the matter if I receive a written complaint."
Imran/Shamera/AI