478 held, 140 arms recovered in a year from Rohingya camps
News Desk || risingbd.com
Published: 15:15, 20 January 2022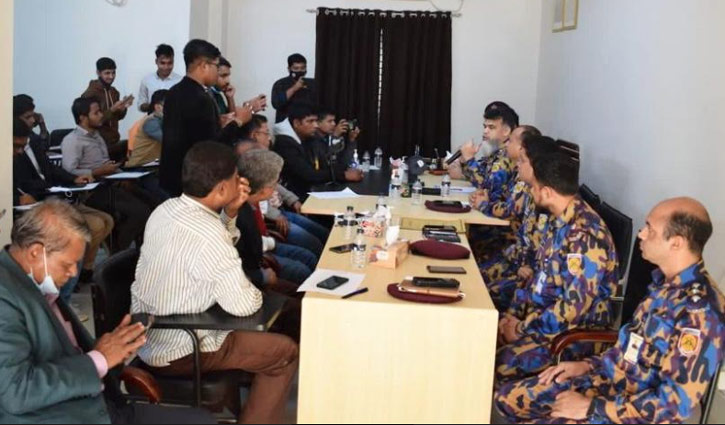 8 Armed Police Battalion (APBn) recovered a total of 140 arms and ammunition following around 200 drives conducted at ten Rohingya camps in Ukhia upazila of Cox's Bazar in a year.
Besides, the police force recovered Tk 58 lakh from drug dealing, more than 908 kg of gold ornaments while trafficking illicitly, 8 firearms, 8.70 lakh pieces of yaba tablets, 1 kg of marijuana, 11.30 liters of alcohol, 3.35 lakh Myanmar kyat and counterfeit notes worth Tk 50,000.
The police team also held 478 Rohingyas who were allegedly involved in these incidents.
Mohammad Shihab Kaiser Khan, the superintendent of Police (SP) and Commander of the 8th APBn confirmed the matter in a press release issued in Raja Palong union under Ukhia upazila on Wednesday (January 19).
He assured that there is no presence of Arakan Rohingya Salvation Army (ARSA) activities in the camps. Some offenders are using its name aiming to create frightening atmosphere in the camps. No offender will get a chance to conduct any crime there since the camps are completely under control of the police force.
The SP also added that APBn-8 made their prompt responses on priority basis in time of any disaster at the camps. During the recent camp fire, the firefighters successfully mitigated casualties working frantically to bring the blaze under control.
APBn-8 said, the police team was transferred to Cox's Bazar from Dhaka when the Rohingya people arrived in Cox's Bazar from Myanmar. Since then, the team has been working relentlessly in 11 camps. The camps comprise 64 blocks and 773 sub-blocks including around 75 thousand 930 houses, which are the residences of about 3 lakh 62 thousand 218 people.
The police force is deliberately guarding about three thousand and five hundred Rohingya people every night to ensure their security. Besides, some members of five police camps are also working with the team, said APBn-8.
Additional Superintendent of Police (Media) and deputy commander of APBn-8 Kamran Hossain said, "We succeeded in arresting about 478 offenders, and an abundant amount of drugs and arms in the last one year. We are working with efforts to ensure peace at the camps regardless of considering the security of our lives."
Tarekur Rahman/Shamera/Al