Mystery unearthed behind death of nine zebras in Safari Park
Published: 20:15, 25 January 2022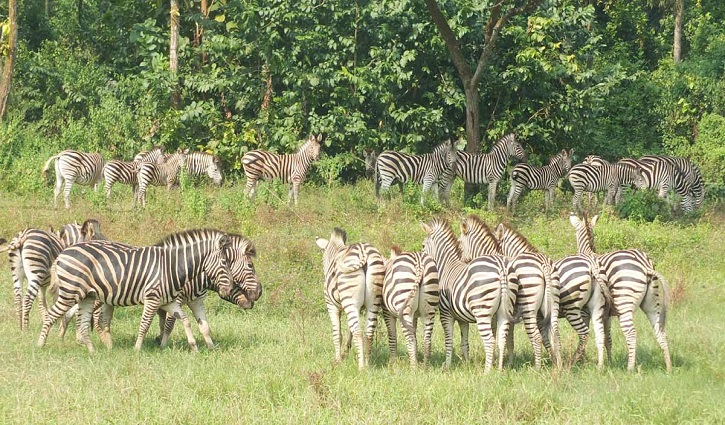 The mystery behind the death of nine zebras in a row this month in Bangabandhu Sheikh Mujib Safari Park in, Shreepur, Gazipur has been unearthed. Of the zebras, four died in fights while five from bacterial infections, experts said.
The disclosure was revealed after a meeting of Zoologists and research team in the Safari Park on Tuesday (January 25) afternoon.
Nine zebras died in the Safari Park in 22 days from January 2 to January 24. The authorities of the Safari Park could not disclose the matter considering the negative impact. After death of nine, now number of zebras stood at 20.
The autopsies of the dead zebras were made at the presence of district livestock officer. Later, samples of different limbs of the dead zebras were sent to the laboratories of Dhaka's standard control and Mymensingh Agriculture University. However, the reports have already reached from the laboratories. The experts explained the proper reason behind the death in light of the reports.
The expert team includes Dr ABM Shahid Ullah, former curator of the National Zoo, Prof D Md Hadi Nur Ali Khan, Professor of Pathology department of Bangladesh Agriculture University, Md Rafiqul Alam, Professor of Surgery Department of the same university, Dr Rafiqul Islam, Professor of Pharmacology Department, Gazipur District Livestock Officer Dr SM Ukil Uddin and the Safari Park Veterinary Officer Dr Hatem Sazzad Zulkarnain.

Gazipur/Rafiq Sarkar/AKA