Thousands walk on Padma bridge after inauguration
News Desk || risingbd.com
Published: 21:06, 25 June 2022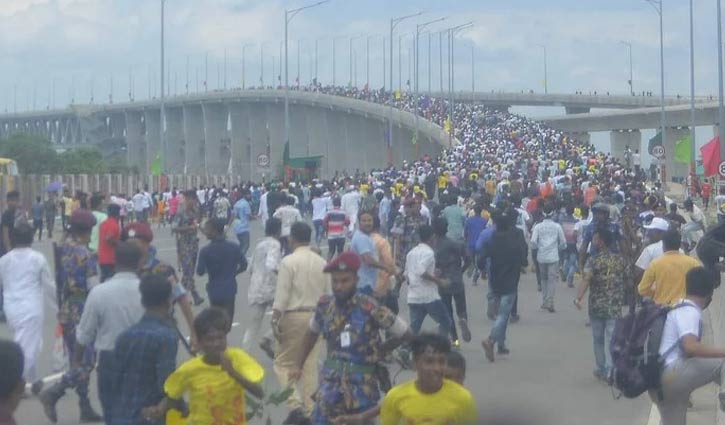 Thousands of people walked on the Padma Bridge after the inauguration on Saturday (June 25). At that time, many people broke the barbed wire made for safety and climbed the bridge by breaking the railing of it.
The scenario was found at Mawa end of the Padma Bridge on Saturday noon.
When asked some of the visitors who walked the bridge after breaking the barbed wire, they said, "We came to take a selfie on the Padma Bridge to become the part of history.
A young man named Raisul said, "The Padma Bridge is our pride. I had a dream of walking on the bridge for long days. So I got the opportunity even after breaking the barbed wire and fulfilled that dream."
Rozina Akhter, a woman, said, "I have been watching the construction of the Padma Bridge for so long. The bridge was inaugurated today. I could not control myself when I saw many people breaking the barbed wire and going over the bridge."
Siraj Halder from Barishal said, "I came from a long distance to watch the inauguration ceremony of the Padma Bridge. I got on the bridge to take a selfie on mobile phone for future memory. It made my life successful."
Officer-in-Charge (OC) of Louhjong Police Station Abdullah Al Sayafil said, "After Prime Minister Sheikh Hasina left Mawa, the curious crowd broke the barbed wire and climbed the Padma Bridge. Efforts were being made to bring the situation under control."
Mentionable, Prime Minister unveiled the Padma Bridge at Mawa end at 11:58 am on Saturday (June 25). At 12:06 pm, the Prime Minister's convoy left for Jazira end via the bridge.
Earlier, the Prime Minister paid the toll of the Padma Bridge at 11:48 am. Traffic on the Padma Bridge will resume at 6:00 am on Sunday (June 26).
Munsiganj/Ratan/AKA