Class XI admission seekers swarm computer shops amid corona risk
News Desk || risingbd.com
Published: 20:40, 11 August 2020 Update: 21:24, 11 August 2020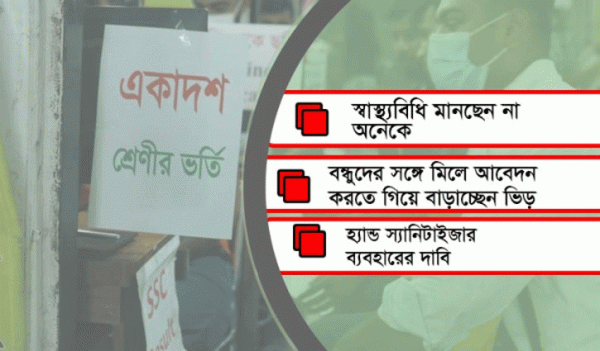 Students are seen to throng computer shops in order to complete their application process in getting enrolled to Higher Secondary Certificate (HSC) and equivalent courses, increasing the risk of being infected with coronavirus.
They are applying together to get enrolled to class XI after going to various computer shops although most of them have computers and personal smartphones.
In Nilkhet and Farm gate areas of the capital, it is seen that many students and guardians are visiting computer shops to complete the admission process online, increasing their chance of being infected with the virus.
It is also seen that students, waiting for long time, are applying to get enrolled to the colleges of their own choice, not complying with the Covid-19 protocols although it was supposed to follow.
Earlier, all the students, teachers, guardians and stakeholders were asked to follow health guidelines set by the government in a bid to stem the deadly virus while taking part in the admission process for getting enrolled to class XI.
Mahmud, an admission seeker, said, "I was confined at home for long due to corona. Now, got a chance to come out. Many of my friends have come together to computer shops in order to complete our admission process online."
Mohiuddin, who was working at a computer shop in Farm gate, said, "Many students came to the shop on the very first day. They are not following the health guidelines although they were asked to. They should follow it."
Professor Harun-or-Rashid, the college inspector at the Board of Intermediate and Secondary Education, Dhaka, said, "Students will have to apply for getting enrolled to class XI following health guidelines. Students and guardians were made aware of the online admission process in a circular issued earlier."
Yeamin/AI