Educo: Fighting the double blow- Amphan and Covid-19
News Desk || risingbd.com
Published: 16:28, 19 October 2020 Update: 16:30, 19 October 2020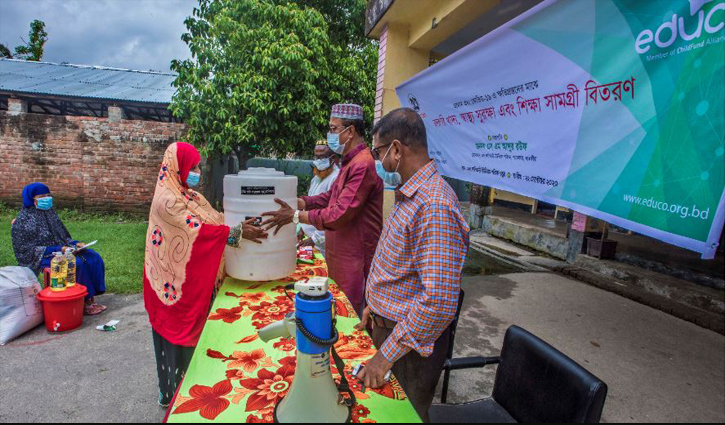 The global development and humanitarian organization Educo has been supporting the most vulnerable communities of Bangladesh since 1999. It has recently supported more than 2,640 families of Koyra of Khulna and Shyamnagar of Satkhira district with its emergency response project of Amphan and Covid-19.
People living in coastal areas of Bangladesh live with extreme vulnerabilities as they frequently experience various natural disasters. Among them, people of Khulna and Satkhira are the worst sufferers of such catastrophes. When people of these areas, were striving to combat against coronavirus, another tropical cyclone Amphan made landfall in Bangladesh on May 21, 2020, causing huge devastation. Tidal surges caused the collapse of embankments, inundations of saline water causing a scarcity of safe drinking water and putting the lives of thousands at risk of waterborne diseases.
As the extent of the urgent humanitarian needs has been visible, Educo, Bangladesh extended its support to the most vulnerable people of Koyra of Khulna and Shyamnagar of Satkhira district through its Amphan and Covid-19 response programme.
In a press release issued today (October 19), Country Director of Educo, Bangldesh Abdul Hamid said: "We tried to stand by the people of Koyra and Shyamnagar, who were in dire need of food, safe water and hygiene materials after the cyclone has passed in the time of Covid-19. Their livelihood was greatly affected along with the education of their children."
Through the response programme, Educo Bangladesh has provided food support water tanks, Education and hygiene items, and cash grants via mobile transfer, as well as renovated damaged tube-wells to benefit some of the most vulnerable people. The organization has distributed food support and hygiene kit to 1,365 families and also transferred BDT 2,440 to additional 1,250 families, each. Water tanks have been installed at house-yards of 432 families to ease their access to safe drinking water conservation via rainwater harvesting. 04 tube wells, which were severely damaged during the cyclone, were also repaired. 2,550 families have received educational materials so that children of these families can practice lessons even after losing their pedagogic materials during the cyclone. Educo, Bangladesh did not only provide the people with the support but also oriented them to keep themselves safe from the spread of coronavirus in such critical situation. This response activity has been implemented by Educo, Bangladesh's partners Uttaran (at Satkhira) and JJS (at Khulna).
Uttaran's Executive Director, Shahidul Islam said, "The ongoing Covid-19 is making the situation even more complex as people who have been displaced by Amphan have limited access to any sort of hygiene facilities. So, here the challenge is to support the most vulnerable ones with emergency relief while we also take necessary steps to stop the spread of Covid-19.'
Previously, Educo, Bangladesh has supported around 100,000 Covid- 19 affected population including around 60,000 children with cash/food and hygiene kit. Educo, Bagladesh has extended support to the most vulnerable people of the society to overcome their hurdles through various activities and programmes. In future as well, Educo Bangladesh will keep up its effort to stand beside the most vulnerable communities in any humanitarian crisis and disasters.
Dhaka/Nasim/AI