Prolonged COVID-19 crisis to force more children into worst forms of labor
Published: 16:33, 12 June 2021 Update: 17:22, 12 June 2021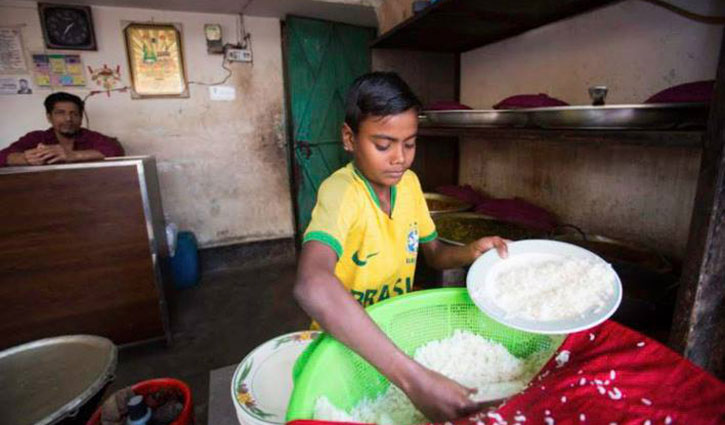 Every year on 12th June since 2002, World Day against Child Labour (WDACL) is celebrated with the intention to shed light on this important issue as well as action and efforts required to eliminate it globally.
This year's World Day against Child Labour focuses on action taken for the 2021 International Year for the Elimination of Child Labour under the slogan of 'End Child Labour'.
On this special day, Educo warns that more children will likely to be forced to work in hazardous labor even in the post-pandemic situation, as many struggling families will still need to mitigate the financial impact of the crisis and repay long-term debts.
According to a recent study conducted in 2020 at Dhaka, Satkhira and Cox's Bazar by Educo Bangladesh, approximately 72.33% working children claimed that they must work to meet the economic need of the family, whereas around 19.28% children said that their families cannot afford schooling cost and therefore they entered into work.
Approximately 4.61% working children responded that they were forced by their parents to enter into work at an early age. Then again, 32.85% children suffer from physical injury at their work, around 14.94% children suffer from mental problem, 29.75% children suffer from scolding, 7.53% children suffer from physical torture, 0.23% children suffer from sexual abuse and 3.67% children suffer from economic exploitation.
Liza, 13 years old girl, living in Dhaka, says that children should be given chance to study while working as she explains 'If we could continue work and studies simultaneously it would have been better. Though I wanted to be a doctor, my dream has shattered for now. I only want to stay happy in future and being a doctor can give me happiness. After being a doctor, I want to serve my parents and others in need. I don't like to work as a house help, I only love to study. I wish I could do another job except for this.'
Educo Bangladesh's Country Director – Abdul Hamid has stated that as the pandemic cause's turmoil on families, many could resort to child labour for money. He said, 'as the schools are still closed, to cope with the on and off lockdown, many children might get pushed into working for a livelihood. In align with the SDG 8.7, Bangladesh Government has set a target to eliminate hazardous forms of child labour by 2021 and all forms of child labour by 2025.
As we re-imagine the world post-COVID, we need to make sure we can fulfill the target at the same time ensure that no child should be involved in any form of child labour at least until he or she has completed compulsory education. This measure should be strictly regulated by law.'
The issue of child labor is extremely complex as it is rooted in poverty and inequality. Educo Bangladesh believes that new national studies and the events and activities carried out by the Government and development partners during this month and throughout the year will be an opportunity for bringing people together at the international, national and community levels to eliminate child labour by the targeted 2025.
Educo Bangladesh, to support the government is working constantly to positively influence the policies in regard to child labour, ensuring quality education, social protection services and better economic opportunities while changing the mind-set of the society towards this grave issue.
Dhaka/Halima Akter/Nasim