Shimul Mostafa to join Uday Hakim's live show tonight
Published: 11:13, 2 August 2020 Update: 10:37, 3 August 2020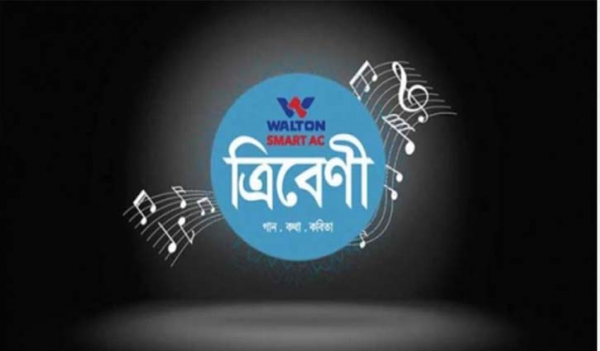 On the occasion of Eid-Ul-Azha, writer, journalist, presenter and corporate personality Uday Hakim is hosting a six-day-long live show programme titled 'Tribeni' which highlights literature and music.
Country's leading and popular online news portal risingbd.com is arranging the live show programme that began on the night of August 1 and will continue till August 6. The episode of 'Tribeni' is aired at 10.00pm everyday.
Popular reciter Shimul Mostafa will be present as the guest tonight (Sunday). Month of mourning, Mujib Year and Bangabandhu will get priority in the programme.
Singer Sheuli Roy from Cumilla was present as the guest on the Eid day. She is the daughter famous tabla player Ustad Shefal Roy. Sheuli Roy is a trainer of Cumilla Nazrul Institute.
The exceptional programme sponsored by Walton 'Smart AC' basically aims at focusing song, lyric and poem.
The programme will be broadcast live on the Facebook page of risingbd.com.
It is mentionable that risingbd is regularly arranging the live show programme with participation of star personalities who have long experience in the fields of entertainment, art-literature, sports, corporate world and technology.
The programme having exceptional content has been designed to entertain viewers, audiences and readers during this coronavirus pandemic.
Uday Hakim, the advisory editor of risingbd.com, said, "This special programme is being arranged to highlight talented artistes who are scattered in different upazilas and districts of the country. Veteran and new artistes are invited to attend the programme."
Pprogramme schedule
Third day of Eid: Artiste Liton Gomej from Bakerganj in Barishal will be present as the guest.
Fourth day of Eid: Artiste Ruhul Amin from Jamalpur will be present as the guest.
Fifth day of Eid: Singer Sabuj Bangalee from Tangail will be present as the guest.
Sixth day of Eid: Rabindranath Tagore's death anniversary is August 6. Israt Bithi and Promila Roy will be present as guests. In this episode, they will sing Rabindra songs.
Those who are interested to join the programme directly in the studio of risingbd or through online can contact to this e-mail address: [email protected] or the programme can be reached through the Tribeni Facebook page (https://www.facebook.com/Risingbd.Tribeni/). To participate in the event, the interested ones can contact directly to this number—01572168194. The live show programme will also be available at this page: https://www.facebook.com/DailyrisingbdOnlineNEWS/



Mahfuj/Mukul