Mahbubul A Khalid`s song portrays the spirit of Mahalaya
News Desk || risingbd.com
Published: 11:12, 17 September 2020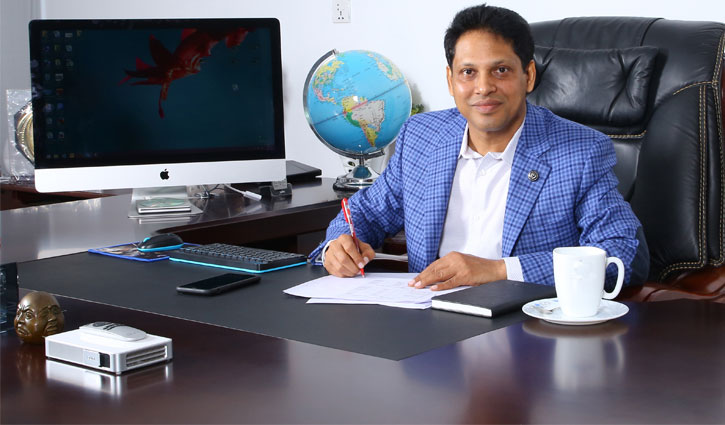 Noted poet, lyricist and composer Mahbubul A Khalid
Hindu devotees are celebrating Mahalaya today (17 September 2020). Mahalaya is a date on the Hindu lunar calendar that stands at the cusp of change—a period of shraadh or homage offerings to ancestors changes over to the worship of the devi.
Mahalaya Amavasya marks the culmination of the Pitru Paksha period and the beginning of the Devi Paksha. The day also marks the onset of the Sharadiya Navratri season that is dedicated to Maa Durga. The devotees keep a fast for nine days and worship the nine forms of Maa Durga. On this day, the Goddess descends on the earth from her heavenly abode or Kailash on either a palanquin, boat, elephant or horse.
Normally, celebrations for Durga Puja begin seven days after Mahalaya. However, this year the biggest festival of Hindus would be held a month after Mahalaya. So, Durga Puja celebrations will be held this year between October 22 (Shashthi) and October 26 (Vijaya Dashami).
Meanwhile, noted poet, lyricist and composer Mahbubul A Khalid has penned a song on Mahalaya festival. The lyricist also composed the music of the song titled 'Mahalaya' in which Nandita rendered her voice.
The song has been published on Mahbubul A Khalid's musical website 'www.khalidsangeet.com'.
About the song, lyricist Mahbubul A Khalid said: The true spirit of Mahalaya is to slay the asuras (vices) hidden in our minds like the slaying of Mahisasura and forget violence, anger and discrimination and bind ourselves in the bond of brotherhood and friendship. This message of the significations of Mahalaya has been highlighted in this song. Hope everyone will like it.
Mentionable, the poems and songs written by Mahbubul A Khalid contain religious and social festivals of different religions. He writes and composes songs for all humankind irrespective of race, religion and caste. To him, music is not for any race or religion, music is for everyone. His songs and poems are rich with the message of love and humanity.
Apart from Mahalaya, Mahbubul A Khalid also wrote songs about Durga Puja, the biggest religious festival of Hindus along with Lord Krishna. He has written songs on the Muslim religious festivals of Ramadan, Eid-ul-Fitr, Eid-ul-Azha, Shab-e-Qadr, Shab-e-Meraj, Shab-e-Barat, Hajj, Eid-e-Miladunnabi etc. He has also written songs on other religious festivals such as Christmas of Christians, Buddha Purnima of Buddhists and so on. These songs written by Mahbubul A Khalid clearly show the perspectives and significances of the respective days and festivals.
Web link of the Mahalaya song: http://www.khalidsangeet.com/music/mohaloya
Dhaka/Augustin Sujan/AI