Twin sisters Sathi-Bithi to join 'Tribeni' live show tonight
News Desk || risingbd.com
Published: 11:39, 30 September 2020 Update: 11:44, 30 September 2020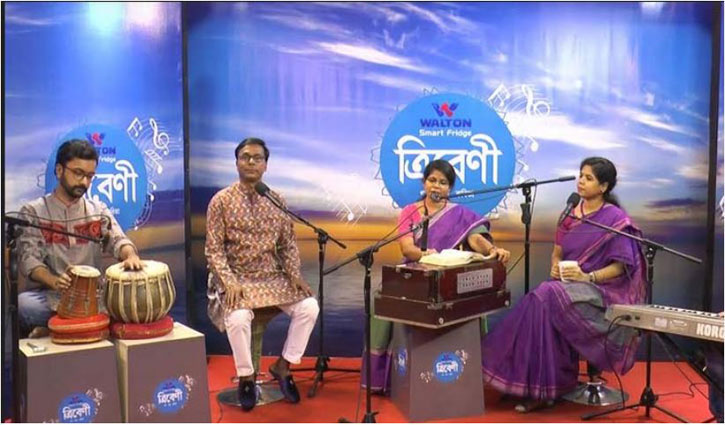 Writer, journalist, presenter and corporate personality Uday Hakim is regularly hosting a live show programme titled 'Tribeni' which highlights literature and music.
Country's leading and popular online news portal risingbd.com is arranging the live show programme every Wednesday night.
The exceptional programme sponsored by Walton `Smart Fridge' basically aims at focusing song, lyric and poem.
The programme is broadcast live or as Facebook premier from the Facebook page of risingbd.com.
It is mentionable that risingbd is regularly arranging the live show programme with participation of star personalities who have long experience in the fields of entertainment, art-literature, sports, corporate world and technology.
The programme having exceptional content has been designed to entertain viewers, audiences and readers during this coronavirus pandemic.
Alongside the scheduled programme on every Wednesday, special programmes are also arranged on the occasion of various important days.
Nusrat Jahan Sathi and Israt Jahan Bithi are twin sisters. Both of them work at Chhayanat. They also rehearse singing songs there. They grow up in Dhaka although their village home is in Kishoreganj. They used to listen Rabindra Sangeet from their father since childhood. Since then, a strong love to Rabindra Sangeet has been created among them.
These two talented artistes will join the 20th episode of 'Tribeni' live show at 10.00pm today (Sept 30). Both of them will sing Rabindra Sangeet together.
Uday Hakim, the advisor editor of risingbd.com, said "This special programme is being arranged to highlight talented artistes who are scattered in different upazilas and districts of the country. Veteran and new artistes will be invited to attend the programme. So far, more than 50 artistes have joined the 'Tribeni' live show as guest. The show is getting popular as the day advances. At the same time, artistes are getting a floor to present themselves. The show must go on for the interest of artistes."
Those who are interested to join the programme directly in the studio of risingbd or through online can contact to this e-mail address: [email protected] or the programme can be reached through the Tribeni Facebook page (https://www.facebook.com/Risingbd.Tribeni/). To participate in the event, the interested ones can contact directly to this number—01572168194. The live show programme will also be available at this page: https://www.facebook.com/DailyrisingbdOnlineNEWS/
Dhaka/Mahfuz/AI