Mahbubul Khalid's song pays tribute to Rabindranath Tagore
News Desk || risingbd.com
Published: 10:11, 8 May 2021 Update: 10:15, 8 May 2021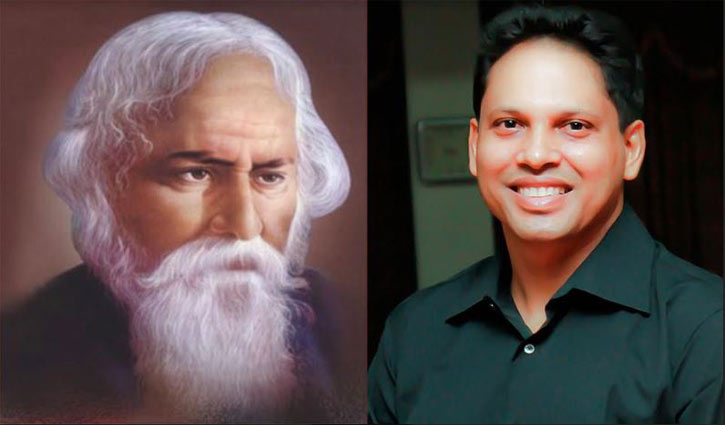 Today is the 160th birth anniversary of Biswakabi Rabindranath Tagore. Rabindra Jayanti is celebrated on the 25th day of the Bengali month of Boishakh or Pochishe Boishakh. Rabindranath, who was awarded the Nobel Prize for Literature, played a pivotal role in shaping Bengali literature, art, and music.
Rabindranath, nicknamed Rabi, was born on 25th of Baishakh in 1268 (May 7, 1861) in Kolkata's Jorasanko Mansion. He was the youngest of 13 surviving children of Debendranath Tagore and Sarada Devi.
Rabindranath started writing poetry at the age of 8 and published his first collection at the age of 16 under the pseudonym 'Bhanusimha'. His novels, short stories, songs, dance-dramas and essays always speak about the political and personal life of people. Sometimes referred to as "the Bard of Bengal", Rabindranath's poetic songs were viewed as spiritual and witty.
He was the first non-European to win a Nobel Prize in Literature in 1913 for his selected poetry collection titled, 'Gitanjali', which was originally written in Bengali and later translated into English.
Besides penning the national anthem of India, Jana Gana Mana, his composition is also received as Bangladesh's national anthem, Amar Shonar Bangla. The Sri Lankan national anthem is also said to be inspired by his work.
The legendary poet breathed his last at his paternal home in Kolkata on Sraban 22 of 1348 (August 7, 1941).
Tagore is a significant part of every Bengali's heart and soul. From his short stories to songs and plays, an average Bangali refers to Tagore and cites Kobiguru as he is fondly remembered in every circumstance of life, in joy, sorrow, agony or pain.
Meanwhile, prominent poet, lyricist and composer Mahbubul Khalid has penned a song that pays rich tribute to Biswakabi Rabindranath Tagore. Legendary late composer Ahmed Imtiaz Bulbul tuned the song titled 'Rabi Thakur'. Young singers Sabbir and Tina rendered their voices to the song.
A music video of the song has been published on YouTube's 'Khalid Sangeet'. Besides, the song is also available on www.khalidsangeet.com, a website that contains the songs and poems of Mahbubul Khalid.
It is to be noted that, Mahbubul Khalid has written many songs on different national and international days, religions festivals, social celebrations, romanticism, philosophy etc. His songs portray the sufferings and possibilities of human being and urge all to establish a violence free universe.
His recent song on Covid-19 pandemic titled 'Corona ke voy koro Na' (Don't get panicked of Coronavirus) has been widely appreciated and created awareness on the deadly virus.
Listen the song 'Rabi Thakur' here: https://youtu.be/o1Ce3oXoY80
Dhaka/Augustin Sujan/AI