Pritilata revered in the Mahbubul Khalid's song
News Desk || risingbd.com
Published: 10:25, 24 September 2021 Update: 10:57, 24 September 2021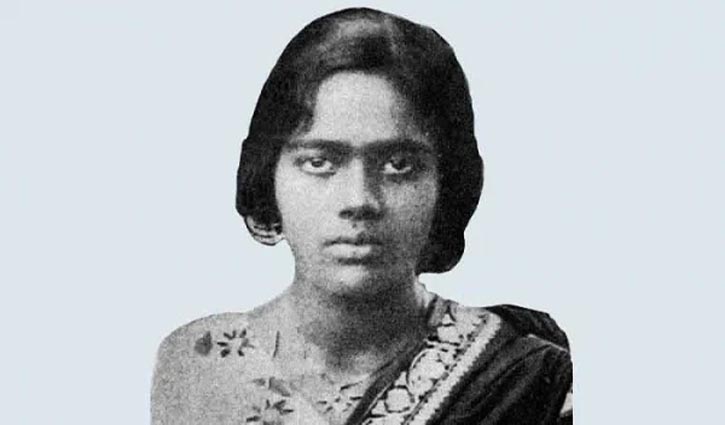 Today is the 89th death anniversary of Pritilata Waddedar, the first woman who embraced martyrdom for the country's freedom from British colonial rule.
She was among the initial lot of revolutionaries who picked up arms against the British Raj. Pritilata, the illustrious anti-British revolutionary, sacrificed her life on September 24 to liberate her motherland from the colonial rule in 1932 at the age of 21.
Pritilata was born in Chattogram on May 5, 1911 in a middle class family. Her father Jagabandhu Waddedar was a clerk in the Chittagong Municipality while her mother Pratibhamayi Devi was a housewife.
Pritilata was a promising student, having spent her school years in her hometown. While a student at Eden College in Dhaka, Wadderdar's anti-British sentiments began to take form as she slowly developed connections with other women who were spearheading semi-revolutionary groups.
In early 1930s she joined the armed resistance movement led by Mastarda Surya Sen who in 1932 planned an attack on Pahartali European Club. On September 23, 1932, Pritilata was assigned to lead a team of 10-12 men that would attack the club. The raid was successful but Pritilata, dressed as a man, was trapped.
She committed suicide by swallowing cyanide that the team was carrying and thus end her short endeavor in fighting for freedom of her country in the early moment of September 24.
Prominent Bangladeshi poet, lyricist and composer Mahbubul Khalid has penned a song that revered the revolutionary who embraced martyrdom at a tender age. Late composer Ahmed Imtiaz Bulbul composed the music of the song titled 'Pritilata'. Three popular young singers Tina Mostary, Saran and Rafsan have rendered their voices to the song.
The song has been published on Mahbubul Khalid's musical website 'khalidsangeet.com'.
Her bravery and sacrifice for the nation's liberty was a source of great inspiration for the later movements in Bangladesh. Her death inspires many revolutionaries which ultimately brought the freedom from British rule. In this song, the life and sacrifice of Pritilata has been highlighted.
Mentionable, the poems and songs written by Mahbubul Khalid contain national, religious and social festivals of different religions. He writes and composes songs for all humankind irrespective of race, religion and caste. To him, music is not for any race or religion, music is for everyone. His songs and poems are rich with the message of love and humanity.
All his songs and poems are published on his website 'khalidsangeet.com'. Besides, music videos of his songs are also released on YouTube channel 'Khalid Sangeet'.
The web link of the song: https://www.khalidsangeet.com/music/pritilata

Augustin Sujan/Mukul